Countries must act beyond their borders and join together to stop the illicit trafficking of irreplaceable cultural heritage, said Edouard Planche, secretary of the UNESCO's Convention for the Fight Against Illicit Trafficking of Cultural Property.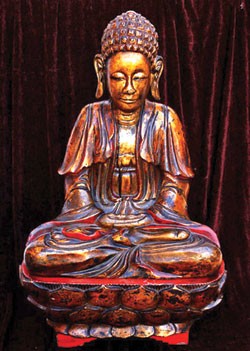 July was 15-20 per cent. — VNS Photo Doan Tung
An international workshop on "Improving the capability against illicit trafficking of cultural property" has been organised in Ha Noi with participants from the Philippines, Laos, Thailand, Myanmar, Malaysia and Viet Nam.
The three-day workshop is a chance for the countries to share experiences and examine the challenges each nation faces. The delegates collectively assessed and outlined strategies to protect sites from being looted, return stolen artefacts, and develop co-operation between regional countries.
"It's important to be aware that the fight can only be effective if it is an international effort," said Planche.
In recent years with the social-economic growth of the region, the rapid expansion of the art market through the internet has created a high demand for cultural objects thereby increasing the hazards of illicit trafficking of cultural artefacts.
He explained that in the Middle East, extremists capture museums and other cultural sites for the artefacts.
"Culture has always been the victim of war," he said.
During the attack on Hue Royal Palace by French invaders in 1885, the royal treasure lost 228 diamonds, 271 gold utensils and many other imperial objects, according to Nguyen Van Cuong, director of the National Museum.
Since 1986, the museum has received thousands of objects seized from illegal trafficking, transport and export thanks to co-operation with customs and other agencies.
"Museums and cultural organisations should join hands with customs, private collectors and other agencies to collect and reclaim artefacts stolen and sold illegally," he said.
Viengkeo Souksavatdy, deputy director of the Heritage Department (the Laos Ministry of Culture) said the situation of illegal trafficking of cultural goods is also dire in his country.
"I hope that this workshop will be a platform to get more countries involved to prevent the loss of national tangible heritage and return artefacts sold abroad," he said.
He gave an example at a Buddhist cave in Luang Prabang which is managed by a private company. Through an inventory, the authorities realised that many statues and other objects were lost.
"We should raise people's awareness that cultural property should not be considered as goods or presents. When they are given or sold abroad, they will be lost forever, we cannot replace them."