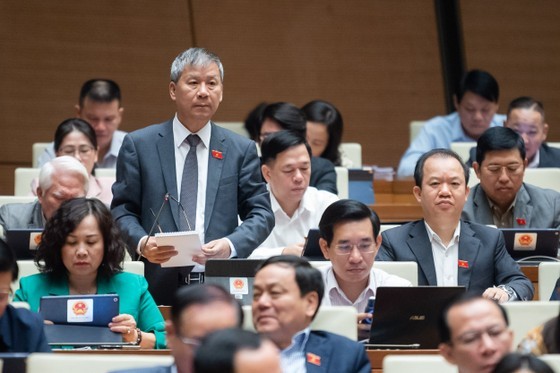 Deputy Nguyen Anh Tri at the session
This morning, the National Assembly conducted a discussion in the hall on the results of monitoring the resolution of voters' petitions sent to the fifth session of the 15th National Assembly.
At the discussion session, Deputy Nguyen Anh Tri, former Director of the Hanoi-based National Institute of Hematology and Blood Transfusion said that the Ministry of Health has responded to recommendations from local voters on a number of issues such as the supplementation of more drugs to health insurance to ease the shortage of drugs, medical equipment and supplies at hospitals.
Moreover, the Ministry has improved salaries and allowances for medical staff.
This matter has been mentioned many times in reports and was also discussed and questioned many times at meetings. The Ministry of Health has tried very hard to resolve the issue with necessary legal documents to promote the procurement of medical equipment for the best healthcare examinations and treatment.
Provincial and municipal authorities need to urge and inspect the procurement of sufficient and correct equipment to ensure good conditions for people's health care, examination, and treatment.
In particular, Deputy Nguyen Anh Tri said that many voters complained that when going to medical stations, they have to ask for a hospital transfer certificate from their first choice of infirmaries to big hospitals which is very troublesome, time-consuming, and tiring. Some 93 percent of Vietnam's population has health insurance, hospital transfer papers have become a barrier for patients while information technology has developed and image diagnosis has become more important. Therefore, it is necessary to make hospital transfer easier.
The deputy suggested that when amending the upcoming Health Insurance Law, responsible agencies need to aim at the goal that patients with health insurance cards can seek medical treatment at any infirmary that is suitable to their disease status, quality of medical examination and treatment, travel time, and their conditions.
The former Director of the National Institute of Hematology and Blood Transfusion highly appreciated the Government's recent Decree 75 which has adjusted the total health insurance payment of hospitals each year so that hospitals will pay medical services with higher prices. Accordingly, health insurance services will be paid according to real prices.
Regarding the list of drugs covered by health insurance, Deputy Nguyen Anh Tri proposed male-related illnesses that have been included by the World Health Organization (WHO) in the list of international disease classifications should be paid for by health insurance.
Additionally, Deputy Nguyen Anh Tri proposed that the upcoming amendment to the Health Insurance Law should remove the list of drugs covered by health insurance because the treatment with which drugs and which regimen are decided by doctors who directly treat patients depending on the severity of patients' illness conditions and medical workers' experience for patients' utmost outcomes.