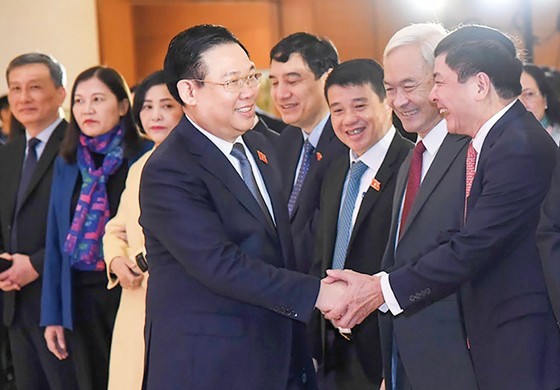 NA Chairman Vuong Dinh Hue is extending his greetings to NA delegates

NA Chairman Vuong Dinh Hue expressed his contentment, knowing that citizens all over the country has enjoyed a safe and happy, warm Tet holiday this year. Tourism activities have bloomed when serving record-numbers of domestic and foreign tourists.
He highly appreciated that necessary activities of the NA before, during, and after Tet holiday are still maintained as planned.
The Chairman then stressed the importance of this year, being the third year implementing the Resolution of the 13th Party Congress and aiming at celebrating the 80th anniversary of the first general election to form the National Assembly of Vietnam.
Therefore, he hoped that all NA delegates continue to make efforts in improving the quality and efficiency of their tasks so that they can best fulfill their duties and contribute to the success of the whole term.