MADRID, Sept 20, 2010 (AFP) - Jose Mourinho's positive start to the season at the helm of Real Madrid has left the charismatic Portuguese coach throwing water bottles around the dug-out in frustration.
Real have two wins and a draw in the Spanish league and have won their Champions League opener in midweek, but Mourinho is far from happy with the fixtures list, or being denied the chance to help his native Portugal.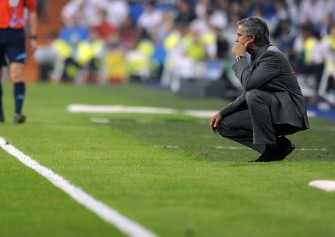 Real Madrid's Portuguese coach Jose Mourinho (AFP)
Mourinho watched Real grind out a fortunate 2-1 win at Real Sociedad on Saturday to make it seven points from nine in the league. So far, Real are unbeaten under Mourinho.
Although happy with the win, Mourinho's temper got the better of him in the closing stages of the match and he was seen throwing a water bottle at the glass cover in the dug-out as Real threatened to concede a second equaliser.
Real were below par and the irate Portuguese took a swipe at Spanish league chiefs for making his side play three days after their 2-0 Champions League win against Ajax.
"(Real) Sociedad were better in the first half and (Real) Madrid in the second so for me a draw would have been a fair result," admitted Mourinho.
"However, a team that plays in the Champions League on Wednesday has to play on Sunday and can't be playing on Saturday.
"Why didn't the Hercules-Valencia match take place on Saturday?"
Mourinho was also angry at Real for refusing to let him help out his native Portugal in their stuttering Euro 2012 qualifying campaign.
Coach-less Portugal have made a poor start to their Euro 2012 qualifiers, drawing 4-4 with Cyprus and losing 1-0 to Norway, and Portugal enquired about Mourinho's help for the next two qualifiers only for Real to block the move.
"I don't understand why Real will not let me coach Portugal when I will have almost nothing to do in Madrid," Mourinho said.
"I will have nine days holiday in Madrid while there are international matches."
Real sporting director Jorge Valdano said it was understandable Mourinho wanted to help out, but said Real had done nothing wrong.
"It has been a huge story in the media so the president of the Portuguese federation rang (Real president) Florentino Perez, but this was to say they had dropped the idea," said Valdano.
"Mourinho is put out because everyone would like to help their country and this reflects well on him, but there isn't anyone to blame at the club."
Marca newspaper reported that former Sporting Lisbon coach Paulo Bento, who played for Benfica, Sporting and Spanish side Oviedo, will sign a two-year contract with the Portuguese federation on Monday.
Mourinho meanwhile must now prepare his side for Tuesday's home match against Espanyol as the games keep coming in a hectic start to the season.
He will be looking for a more polished display: Real were jeered in their last league match at the Santiago Bernabeu when they produced a workmanlike 1-0 win over Osasuna.