Farm owners will soon be able to borrow more capital to invest in their businesses, said Dr Le Duc Thinh, Deputy Director of the Economic Co-operation and Rural Development Department under the Ministry of Agriculture and Rural Development (MARD).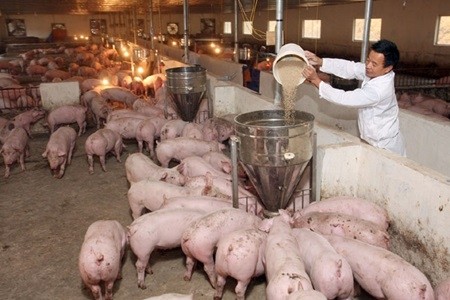 A pig raising farm in central Ha Tinh Province's Huong Khe District. — VNA/VNS Photo Dinh Hue
"This is a remarkable policy in the draft decision of the Prime Minister to encourage the development of the farming sector," Thinh told Nong Thon Ngay Nay (Countryside Today) newspaper.
According to the draft decision, farming households will be loaned up to VND10 billion (US$454,000) and may also receive support with environmental investment, trade promotion, science and technology, farm restructuring and other assistance.
It is expected that the final decision will be issued this year.
According to head of the provincial Rural Development Department, Nguyen Van Toan, the farmers still face difficulties in accessing bank loans and that even when they do, the funds are not large enough, affecting their production.
Similarly in Ha Noi, farmers' demand for animal husbandry certificates is high but only 247 out of over 3,180 farming households have been granted these certificates, reports Countryside Today.
Many reasons are cited for the poor progress of certificate issuance, one significant one being the lack of cooperation between district and commune procedures.
Farmers' knowledge of the certificate requirements is also lacking, causing delays.
Farmers are required to have land use certificates or land leases for farming, but many farmers lack land use certificates, said the report.
The ministry has many supportive policies for agriculture development, but, as of yet, there are no specific policies to support farms.
This draft decision, once officially passed, will be the first development and support policy to target farming households.