According to Mr. Cuong, the PM had agreed to provide the financial aid at a conference to implement the agricultural industry's plans last year but the funds has not been arranged so far.

Of the capital, VND5.4 trillion will be spent on restructuring, VND2.5 trillion on natural disaster recovery and VND1.1 trillion on half-done government bond projects.
Mr. Cuong also suggested supplementing capital to carry out Government Decree 120 on sustainable development in the Mekong Delta.
He proposed the PM to instruct ministries and agencies to review and renew assistance policies to boost agricultural restructuring and new rural development. Land policy should facilitate large scale production and policies should be improved to lure businesses to invest in agriculture and rural development.
Agricultural insurance policy should be implemented sufficiently. Relevant sides should support the agricultural industry to develop market and solve trade barriers to boost farm produce consumption and assist brand name building.
The minister's report at the event showed that the agricultural industry last year experienced many difficulties and challenges. Climate change caused unusual weather conditions, storms and floods continuously occurred and long lasting in the country.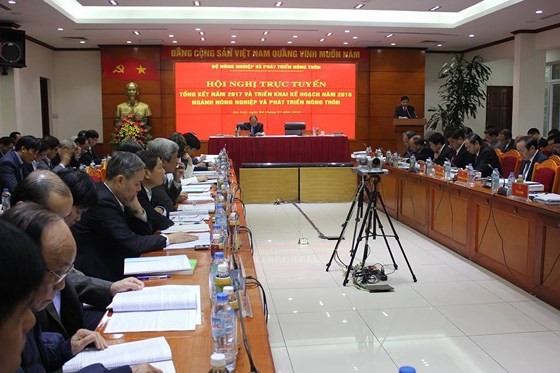 A view of the conference (Photo: SGGP)
Farm produce consumption continued facing trade barriers and severe competition as many nations sped up farm produce export and applied measures to protect domestic production. There was the potential danger of disease outbreak to plants and domestic animals. Productivity has been large but production model small and scattered.
Thanks to timely and synchronous implementation of solutions, the agricultural industry overcame difficulties and obtained joyful results in 2017.
Total export import turnover was estimated to reach US$36.37 billion, up 13.1 percent over 2016. Trade surplus reached $8.55 billion, up $1.1 billion.
Items with high increasing turnover include vegetables and fruits up 40.5 percent, rubber 35.6 percent, rice 23.2 percent, cashew nut 23.8 percent, shrimps 22.3 percent, wooden and forestry products 9.2 percent.
In the group of ten commodities with the export turnover exceeding $1 billion, five namely shrimp, fruits, cashew, coffee and wooden items got the turnover of over $3 billion.