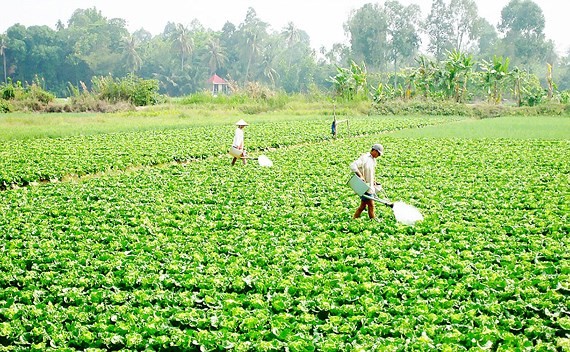 The Crop Production Department under the Ministry of Agriculture and Rural Development said that in 2018, former rice farmers in the southern province switched 68,019 hectares of less productive land to more profitable crops.
Mekong delta farmers stopped rice cultivation in 62,233 hectares of land to growing other crops such as maize, beans and fruits.
The Department of Agriculture and Rural Development in An Giang province said that switching to more profitable crops generates more income for farmers. Specifically, corn farmers earned VND13.5 million including profit of VND7.7 million ($331) a 1,000 meter square while their chili peers netted VND24 million per 1,000 meter square and sweet potato farmers made VND13 million per 1,000 meter square.
Growing veggies and fruits also earn good profit of VND15-23 million and VND800 million per hectare respectively for farmers in Tien Giang province. For instance, durian, grapefruit and mango farmers earn VND800 million, VND700 million and VND600 million a hectare a crop much higher than growing rice.
Likewise, tangerine farmers in Hau Giang province turn a profit of 191 million per hectare and lemon farmers netter VND374 million per hectare.
Farmers in Lai Vung District in Dong Thap Province said after growing crops, the realized that veggie and fruit growing brings more money than growing rice. Small spring onion , okra, cabbage are consumed year-round in Mekong delta and HCMC ensuring farmers good profit.
Accordingly, the Crop Production Department said switching less-productive rice land to growing more profitable crops will be continued inplementing in the next time. Specifically, in 2019, Mekong delta provinces plan to switch 124,526 hectare of paddy fields into growing other crops to raise local farmers' income.