According to the Southern Institute of Water Resources Research, on May 20, From May to July 2023, there is an 82 percent chance of El Nino occurrence, up by nearly 10 percent compared to two weeks ago. The probability of neutral ENSO conditions is low, at 18 percent. In the following phase, El Nino is expected to dominate the entire forecast period, with a probability of approximately 89-91 percent.
The Southern Institute of Water Resources Science advises that the summer-autumn rice crop in the coastal areas of the Mekong Delta region (40-50km from the coast) should be planted at the end of May or the beginning of June 2023 when rainfall and water conditions are more stable.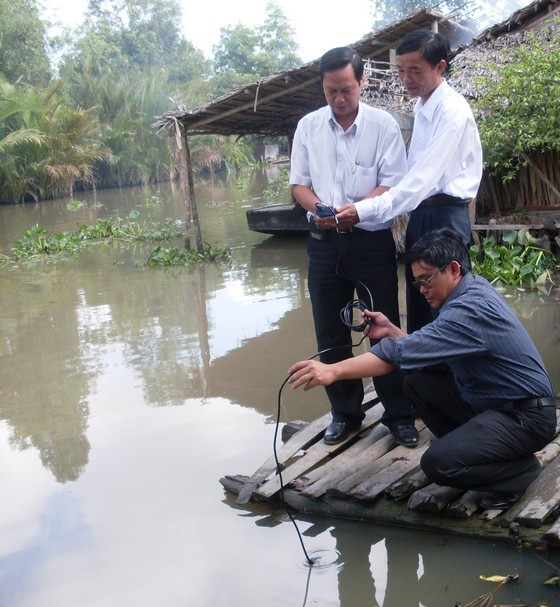 Functional officials of Hau Giang Province check the salinity in the river.
The most effective short-term adaptation measure is to actively avoid saltwater intrusion by adjusting the agricultural schedule based on the experiences of coastal provinces during the dry season of 2016. Coastal communities should proactively store fresh water for domestic use during the dry season of 2024.
In the long run, the Mekong Delta region should implement the Integrated Development Plan for the Mekong Delta, which has been officially announced by the Prime Minister. Accordingly, the freshwater area will be relocated further inland, while the freshwater-brackish water region will be naturally restored and cultivated following the seasonal variations of freshwater and saltwater rather than continuing to fight against salinity as before.
By adapting to this seasonal salinity approach, the Mekong Delta can overcome the recurring salinity issues during the dry season. Additionally, it is crucial to make significant investments in ensuring water supply for domestic use in coastal regions, particularly during extreme El Nino events, stated Nguyen Huu Thien, an independent researcher specializing in the ecology of the Mekong Delta.