How to keep the macro-economy growing steadily topped an on-going workshop in Ho Chi Minh City, where economists pointed out differing trends in the national economy that are difficult to forecast.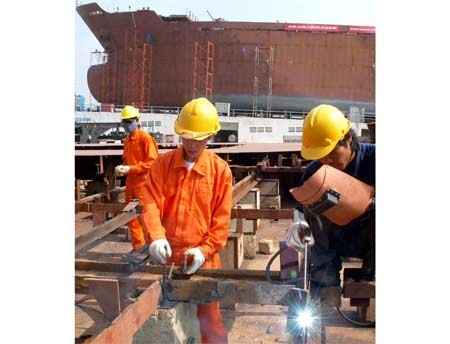 Workers build ship at a shipyard of Saigon Shipbuilding Industry Company (Photo: SGGP)
Dr. Tran Dinh Thien from the Vietnam Economic Institute said that the national economy was looking good as GDP growth has been high for consecutive years and in the third quarter it is likely to reach 7.18 percent, with inflation under control at 5.08 percent in the first eight months.
He warned however, at the two-day workshop on September 21, that the macro-economy has shown uncertain signs and was very difficult for economists to forecast.
He also complained of slow reforms in the internal structure.
Mr. Thien, urged immediate reforms in the State budgets, public investment and State-owned economic groups.
He also called for the State Bank of Vietnam to hold an independent position, and more efforts to develop the supporting industries and regional economies.
Salary reforms in the State economic sector and improving the handling of the macro-economy were the other steps that the senior economist urged to be taken.
Dr. Vo Dai Luoc pointed out the nation's illogical macro-economic developments that need to be addressed, such as high inflation, the highest interest rates on deposits and loans in the world and an inflated Vietnamese dong amidst fixed exchange rates.
To address these problems, Mr. Luoc called on the State to introduce economic adjustments.
The State should also ensure reasonable growth and control inflation when handling the macro economy, he emphasized.
The World Bank's Acting Economic Head, Keiko Kubota, recognized Vietnam's efforts to reach to the world's average income level of 1,100 USD thanks to its drastic economic growth.
However she pointed out that the development was based on the renewal process which has been losing its momentum and has been threatened with emerging challenges in management as well as poverty and imparity.
The Vietnamese economy is still highly competitive and has yet to fall into the income trap, the senior economist from the world's largest development bank said.
She called on Vietnam's development strategy to focus its economic growth on the private sector and prevent the real estate market from overheating.
Top priority should be given to pre-empting crises and supporting productivity including human resources, urbanization and infrastructure, the WB economist concluded.
The two-day workshop, was held in the nation's largest economic hub under the co-sponsorship of the National Assembly's Economic Committee and the Vietnam Academy of Social Sciences. It drew representatives from the Party, National Assembly and Government as well as senior experts, both from Vietnam and abroad.