Over 130 years ago, the French started to build a railway system to connect Northern regions with Ho Chi Minh City and My Tho, which was finished in 1963.
On the 1,730km long North-South railway passing through multiple different terrains, SGGP reporeters' 2 nights and 1 day trip to Hanoi seemed like forever. While the cars and services are allowed improvement, nothing can be done about the train's speed in an old, outdated and forlorn framework.
Boarding the SE4 train, most passengers they saw were foreign visitors and the elderly, with very few young people.
Despite the relatively modernized cars and automatic buttons on every door, the train still gives off an old-school vibe through heavy rumbling sounds beneath the tracks, as if struggling to move along the meter gauge tracks.
At the age of 70, one Mrs. Do Hong Van still prefers riding the train to cheaper and faster plane rides for the nostalgia factor. "I used to ride the train all the time when I was young; it really brings back those past memories", she recalled.
A 42-year-old architect named Nguyen Ngoc Anh said he was willing to take a night train to Hanoi just to enjoy the sound of wheels hitting the rail while reading classical French books to refresh his architectural mind, and hopefully spawn new ideas.
There aren't that many souls left who appreciate such little things, as the young generation prefers to travel faster to fit in with the 21st century's lifestyle.
Riding a train once and for all
Compared to the North-South train and other local tracks, the Hanoi-Lao Cai train has a totally different personality as it mainly serves tourists with much more luxurious commodities. One notable thing is that the majority of passengers are partners of Hanoi Railway Transport JSC, 50% of whom lease whole cars and tailor them to their liking.
After being wowed by the extravagance of the interior, however, travelers soon realize how an actual ride on one of the world's rare meter-gauge railways feels like.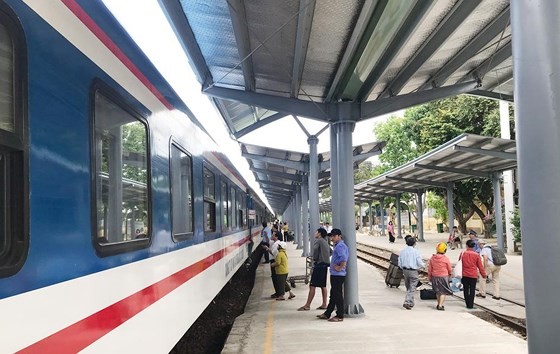 An uncrowded platform in Southern Central (Photo: SGGP)
The sound of iron wheels clattering onto the tracks becomes more tiring with every passing hour, accompanied by the occasional bumps that jerk passengers out of their peaceful slumber.
Exhausted from lack of sleep during the 8-hour trip to Lao Cai, SGGP reporters' car-mate told them she would definitely take a four-wheeler when going back to Hanoi. "The train was fancy alright; but that's enough experiencing for me", she said.
Most other passengers answered the same thing, saying that they would take road transport back to Hanoi, which would only take four hours compared to the 8-hour train ride.
Perplexing thoughts flooded the reporters' mind as they realized how much the rail industry has strived to change. No longer are there busy stops packed with people coming and going. The sound of street vendors crying out products in their native tones is no more than a distant memory. Passengers are now fully accommodated, but traces of hardship that burdens railway workers still remains in the sight of devoted watchmen, waiting patiently on dimly lit platforms.
A dwindling heritage
Bound within the 1-meter wide train tracks, what does this moving nostalgia museum have to offer? The answer would be 22 round trips each day that run far slower than passengers' expectation.
Train rides are much more costly than cabs or passenger buses. Fares for a ride from Saigon to Hanoi are even higher than economy flight tickets at about VND1.4 - 1.9 million (about US$60-82). As for speed, the fastest train still takes 33 hours, which is 15 times slower than an airplane.
The entire railway industry in Vietnam currently employs 27,000 people, 27,000 beings with children and families, all across every station, on every track and in every cab. In order to maintain this museum of memories with a market share of 1% per year, a budget of VND2,000 billion (about US$86 million) is provided, which barely covers 35% of all repair needs.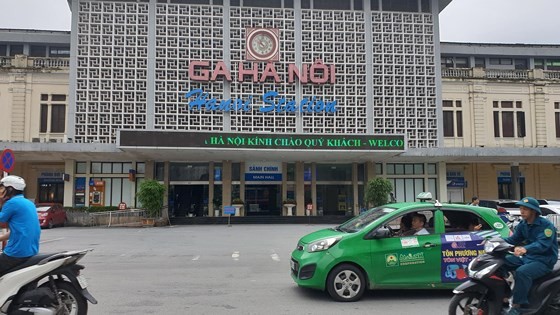 Hanoi railway station (Photo: SGGP)
The reporters got off at Hanoi Railway Station on an autumn morning, looking back over to the ancient Long Bien Bridge, the symbol of Hanoi that has ferried hundreds of train trips each day.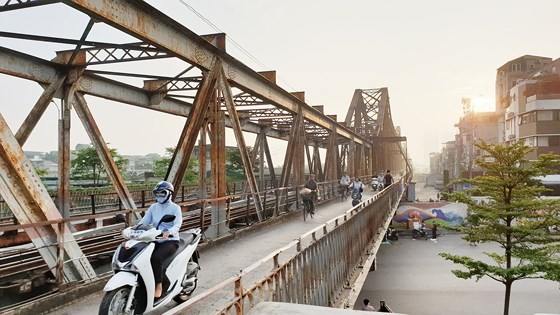 Long Bien Bridge (Photo: SGGP)
Tim Doling, a British railway historian, said that Vietnam Railway is being filmed by German and American documentary filmmakers as one of the world's narrowest gauge railway. It will forever bear the memory of a very unique museum that stood the test of time.