Local-made medicines will account for 80 percent of home market, said a leader of the Drug Administration of Vietnam under the Ministry of Health at a meeting on pharmaceutical in Hanoi yesterday.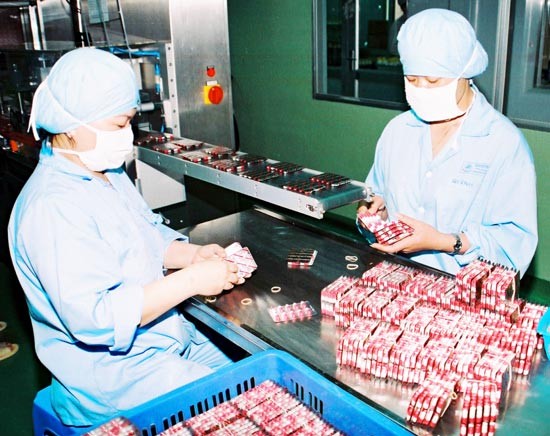 Workers of a drug manufacturer are packaging the drug (Photo : SGGP)
Head of the Drug Administration of Vietnam Truong Quoc Cuong said that the pharmaceutical sector had seen an impressive progress to ensure a full supply for increased treatment and prevention demand.

Currently, the country has 133 GMP standard medicine manufacturers and there are around 177 GSP-certified distributors and around 40,000 nationwide, he said.
Turnover of Vietnamese –made drugs achieved over US$1.35 billion in 2013 and it is estimated that each person spends US$31.18 annually on drugs, he added.

However, Mr. Cuong said that the sector was facing several challenges and difficulties such as the low capacity to meet domestic demand, hight dependence on imported drugs and materials.

In addition, though the local producers have produced over 12,000 various medicines , they are just simple kinds such as vitamins, tonic (multivitamin with minerals), painkillers, febrifuge and anti-inflammatory drug and the country has to import the narcotic, cardiovascular.

In a plan on developing the domestic pharmaceutical sector to 2020 the ministry will focus on production of 20 materials as well as increase of market share of home-made high quality drugs to replace foreign medicine, Mr. Cuong said.
The domestic pharmaceutical sector targets 80 percent of the home market, said Mr. Cuong.
The sector will also focus on making generic drugs to ensure the quality at appropriate cost to replace foreign counterparts gradually.
Apart from this, the ministry will set up five distribution centers in the northern mountainous districts, central northern provinces, central southern provinces, highlands provinces, and the Mekong Delta in a bid to reduce distribution cost as well as drug prices.

The ministry will also set up a scientific council on medicine bidding and an index of standard medicine prices.