The first checked boat owned by fisherman Tran Dinh Son has suffered damage after six days of launching. That is the first breakdown engine in the total of 200 vessels with engines provided by Doosan.

Mr. Son's boat broke down during a fishing trip at sea on March 25, he had to ask other fishing boats to tow his ashore.
The repair was done on April 28 and Mr. Son together with 25 fishermen went out to sea but the engine failure occurred again on May 6, causing the boat float at sea for two days before being towed ashore by another boat. Mr. Son said he had to pay VND60 million (US$2,640) for each tow trip like that.
The company has promised to quickly repair the incident for the fishermen to resume catching.
After examining the boat yesterday, Korean experts determined problems in its spindle and engine compartment. Mr. Son proposed the company to replace new engines.
Besides engine problems, the boat paint has been shed, he added.

Mr. Bui Thanh Hai, director of Dong Hai Automobile Company which is distributor of Doosan engines in Vietnam, said that the company has reported the problem to Binh Dinh province's Department of Agriculture and Rural Development and shipbuilder Nam Trieu Company. They will work together to check all vessels installed with Doosan engines.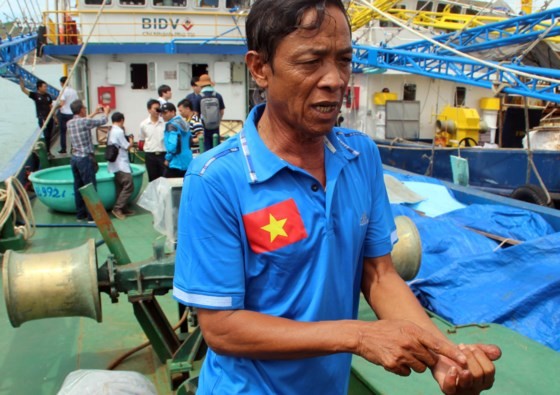 Fisherman Tran Dinh Son (Photo: SGGP)
On the same day, a working group from the Directorate of Fisheries under the Ministry of Agriculture and Rural Development inspected steel hulled vessels built under Decree 67, which have been rusty and breaking down in Cat Khanh commune, Phu Cat district, Binh Dinh.
Many steel hulled vessels have been damaged shortly after coming into operation in Binh Dinh and the neighboring province of Phu Yen. The Prime Minister Nguyen Xuan Phuc has asked the Ministry of Agriculture and Rural Development to inspect and clarify the problem.