AKE OME! 2016 festival introduces Japanese traditional and modern art performances at the Giang Vo Exhibition Centre in downtown Hanoi on December 26-27.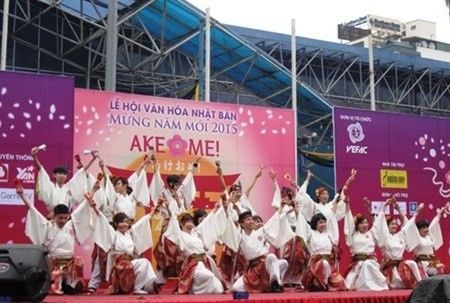 The Japanese art performance took place at AKE OME! 2015 festival (Photo:VNA)
The festival aims to educate and entertain visitors through Japanese traditional dances and music performances by Tips Lips and Hanoi Defkay, two music bands that hail from the Japanese community in Hanoi.
In addition, visitors can try on traditional Japanese costumes, Japanese style of fortune-telling, folk games, including humming-top, doing archery, go, playing cards, etc.
The commercial booths will also introduce typical Japanese products to attendees.
The event, which is the third of its kind, was established to help Vietnamese learn about Japanese culture and promote friendship between the two countries.-VNA