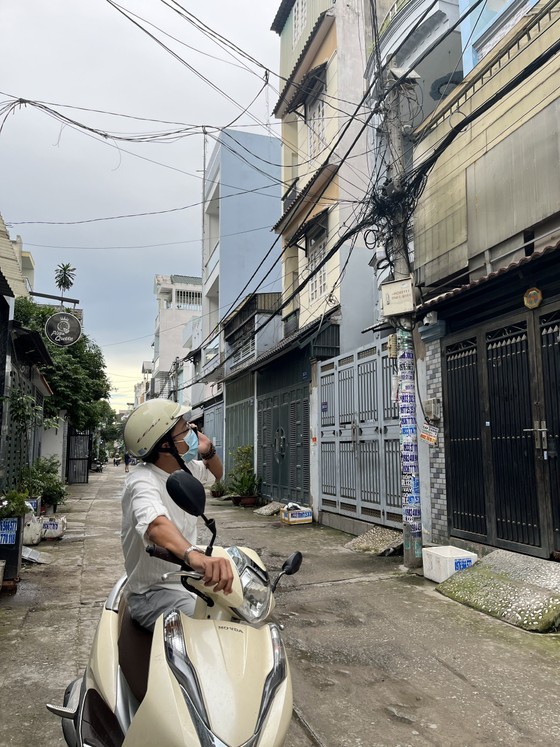 A person is surveying the neighborhood of a house he intends to buy in an alley in Binh Tan District of HCMC (Photo: SGGP)

Right after Tet holiday, 30-year-old Nguyen Hoang is trying to balance his household spending account when receiving the news that the interest rate of his house loan is going to increase from less than 9 percent to 13 percent. This means the money he has to pay the bank now rises by VND4 million (US$170) to reach VND21 million ($895) per month, which is rather troublesome now that his wife might face a layoff from her company.
Such a situation like Hoang above is not at all rare in Vietnam at present, when banks nationwide have increased deposit interest rate, leading to an unavoidable rise in loan rate. All people borrowing money from banks to buy their house are negatively affected, especially white-collar workers without any additional income source.
Minh Anh from Binh Thanh District of Ho Chi Minh City shared that she filed for a loan of VND1.4 billion ($59,700) to buy her house near the East Coach Station, to be paid back in 25 years. All have gone on smoothly as she and her husband have stable incomes until her mother-in-law was seriously ill not too long ago. She then needed a large sum of money for hospital fee immediately and thus could not afford this loan anymore. Now she has to sell the house and pay back the loan to the bank.
Obviously, when applying for a house loan, many young people have not considered any unexpected situations that require them to spend a large amount of money. Therefore, they could not manage the case when it actually happens. Now that they encounter a financial problem, all they can do is to decrease their daily expense to the minimum.
Buying a house is a long-term financial plan that needs careful consideration before giving a final decision. People should take into account certain negative situations and save money for that besides their daily spending on essential commodities and basic services. This will help them avoid more stress in life.
House prices in the outskirt of HCMC like Hoc Mon District, Cu Chi District, District 12 have witnessed a significant rise. For instance, the price of a small house in an alley in District 12 used to be VND800 million ($34,115) 7 years ago, but now it quadruples, posing more challenges for the young wishing to own a house in the city.
Seeing that, many young people have opted to purchase a house in neighboring provinces of HCMC like Long An Province. Others pool money to buy a house together to live, and then sell it when the price becomes better. Adding to further savings, they could gradually move nearer to the downtown.
Clearly, with a wise financial plan, the young can obtain a private house of their own. However, they should not try to have a house at all cost and increase pressure for their life, which will eventually destroy their health.