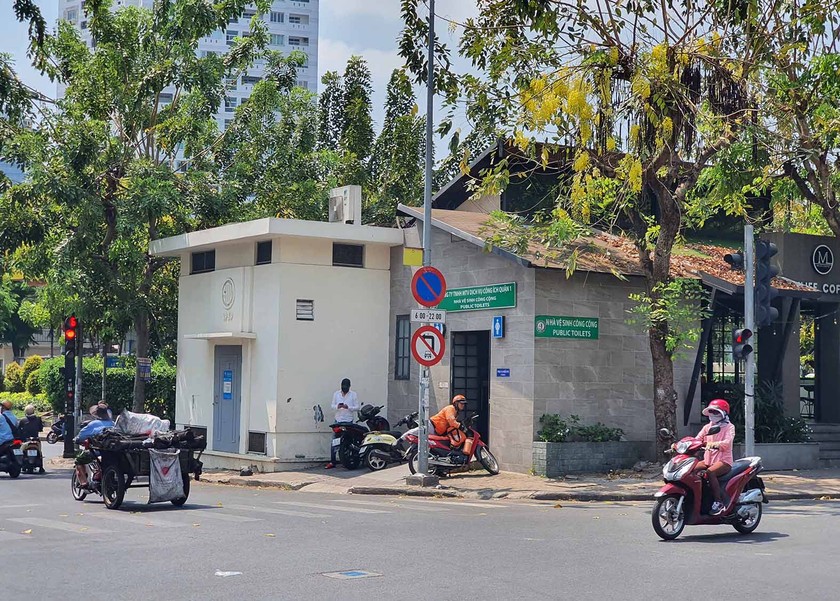 A public toilet in District 1
According to resident Ho Cong Thanh living in Ward 7, District 8, public restrooms are clean and airy thanks to new equipment, adequate wastewater discharge and diligent cleaning staff and each person's awareness to maintain cleanliness. These well-equipped facilities in the city center should have to change slippers to avoid dirty and wet the floor.
Currently, along national highways, many bus stops, and gas stations should have free-of-charge restrooms to serve passengers.
Mr. Ho Tu Thang in HCMC's District 12 said that a few public toilets have been built and the quality of these facilities is not guaranteed, especially in densely populated and touristy areas. This causes a lot of inconvenience.
In his opinion, to solve this problem, the city should build smart and comfortable public toilets with modern and complete sanitary equipment, and regularly clean and maintain the system. In addition, a green, clean and beautiful living environment with plants and flowers is also a great way to stimulate the construction of these toilets.
He suggested several specific solutions such as a suitable and appropriate location for the construction of toilets. The location is not too far from a densely populated area for the convenience of people when using it; plus, the city should hold a public opinion poll.
Mrs. Nguyen Thi A in Mac Dinh Chi Street of District 1 thought that the system of public toilets in the city is not synchronized, and the locations of these facilities are not suitable, leading to indiscriminate urination. She supposed that the city should build more public toilets in high-traffic areas such as parks and hospitals.
She also mentioned fee collection of about VND3,000-VND5,000 which will also prevent some people with meager income such as motorbike taxi drivers, and people in faraway provinces going to the city for medical examination and treatment entering toilets although this fee is not high.
Since 2017, the People's Committee of District 1 has encouraged business and service establishments in the district to allow residents and visitors to use toilets for free. At venues with free toilet support, all green logos are attached with the words 'Toilet - Free of charge' to help residents and visitors recognize. However, people and tourists are still hesitant to use the toilets in high-class hotels and restaurants.