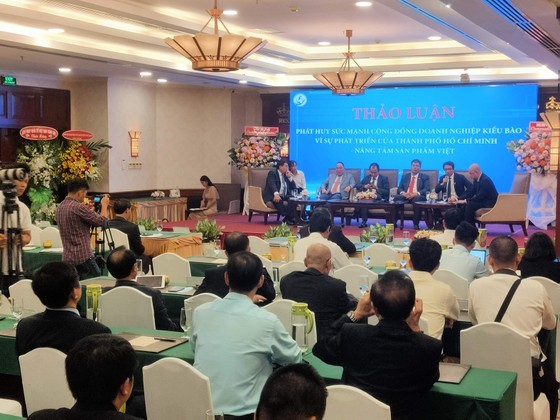 Overseas Vietnamese businesses and domestic enterprises discuss ways to elevate the quality of Vietnamese products.
This initiative has garnered significant support from the public, as it not only offers investment opportunities for overseas Vietnamese but also taps into one of the country's valuable resources.
Contributing to approximately 48 percent of the total domestic revenue
Both Vietnam as a whole and specifically HCMC have implemented various mechanisms and policies to encourage remittances from overseas Vietnamese and foreign workers. According to official data, the total amount of remittances to Vietnam in 2022 saw a growth of 4.4 percent compared to 2021. HCMC stood at the forefront, receiving US$6.6 billion in remittances in 2022. In the first quarter of 2023 alone, it received nearly $2.2 billion, marking a significant 19.41 percent increase compared to the same period in 2022, accounting for 0.7 percent of the city's gross regional domestic product (GRDP) in the quarter.
Remittances remain a shining aspect, constituting around 48 percent of the total domestic budget revenue and 33 percent of HCMC's budget revenue. Overseas remittances serve as a significant source of foreign currency, aiming to ensure the balance of foreign currency supply and demand. They also play a crucial role in implementing monetary policies, managing exchange rates, and influencing interest rates, particularly in the face of exchange rate pressure. It is also a positive signal of financial resources for both HCMC and the entire country.
On a national level, when compared to net exports, remittances contribute significantly more to the overall revenue. The current inflow of remittances equals or even surpasses the disbursed foreign direct investment (FDI) capital. The total amount of remittances received since 1993 (the year when Resolution No.08-NQ/TW was issued by the Politburo on November 29, 1993, concerning the mobilization of overseas Vietnamese) has exceeded $200 billion, while the disbursed FDI capital since 1986 has reached approximately $190 billion.
Over ten years (2011-2022), the volume of remittances sent to Vietnam experienced an average annual growth rate of approximately 7 percent. Remittances flowing into HCMC had consistently risen from $4.1 billion in 2012 to $6.6 billion in 2022. The remittance inflow to HCMC accounts for nearly 36 percent of the country's total. Remittances play a significant role in keeping Vietnam ranked among the top three countries in the Asia-Pacific region in terms of receiving the highest amount of remittances and among the top ten countries worldwide in recent years.
Currently, around 5.5 million Vietnamese people are living abroad, including over 1 million individuals from the second and third generations who possess foreign citizenship. They have a substantial demand for sending money back to Vietnam for various purposes, such as providing support for their relatives' livelihoods or investing in business activities and trade.
Attracting investments to major projects
How can we effectively attract and promote remittances, create greater value-added, and become one of the crucial driving forces in contributing to the economy of Vietnam in general, and HCMC in particular, as envisioned in the "Project on Policies to Attract and Promote Remittance Resources in HCMC"?
First and foremost, the government and local authorities should implement positive policies to instill confidence among overseas Vietnamese and introduce breakthrough policies regarding overseas Vietnamese and remittances. To that end, the amended Land Law should be more open, allowing overseas Vietnamese to purchase properties in Vietnam more easily. Additionally, efforts should be made to enhance the attraction of overseas resources to participate in key programs, projects, and initiatives of the State of Vietnam and HCMC through the issuance of government bonds and municipal (local) government bonds that offer attractive incentives. Simplifying investment certification procedures at all levels, particularly during implementation at the local level, will create favorable conditions for overseas Vietnamese to invest in their homeland.
The relevant authorities should study international experiences in encouraging remittances, such as those in China, India, and the Philippines, to establish funds that utilize remittance flows, such as real estate remittance funds and funds to support small and medium-sized enterprises, fostering entrepreneurial activities. It is crucial to identify priority sectors and industries where overseas Vietnamese can contribute to the country and HCMC. The publication of these opportunities through diverse media channels is essential to ensure that overseas Vietnamese are well-informed and can actively contribute and invest in these sectors.
Vietnamese financial institutions should enhance their efforts in negotiating and signing agreements on financial services and diversify money transfer methods in promising markets such as Europe and the Pacific to attract a steady inflow of remittances for domestic investments. Furthermore, expanding service channels nationwide will facilitate convenient remittance transfers for overseas Vietnamese and migrant workers. Creating an "Overseas Vietnamese Investment Fund " is crucial to support Vietnamese investors abroad in returning to Vietnam to establish businesses and pursue entrepreneurial endeavors.
Given the significant number of overseas Vietnamese entrepreneurs and intellectuals (constituting over 40 percent of the total overseas Vietnamese population), HCMC needs to implement targeted policies to position itself as a leading economic hub within the country and the region. These policies should prioritize various incentives, such as cash rewards, preferential pricing and leasing terms for manufacturing facilities, facilitation of residential property purchases for settlement, favorable corporate tax rates, and personal income tax benefits. These incentives should be specifically designed to attract and support overseas Vietnamese entrepreneurs, businesses, and intellectuals who are willing to invest substantial capital, starting from $2 million, in HCMC, particularly in key sectors that have a positive social and sustainable impact or serve as a catalyst to attract foreign investors for collaboration, investment, and the overall progress of the city.
Presently, the legal framework in Vietnam offers options for overseas Vietnamese individuals to decide whether to become foreign direct investors or domestic investors. Consequently, a considerable number of overseas Vietnamese have chosen domestic investment as a means to participate in production and business activities. In this context, remittances play a vital role as a channel for these individuals to transfer capital back to Vietnam, facilitating entrepreneurial endeavors.