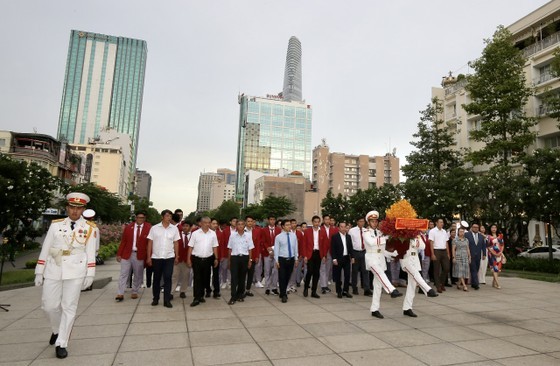 City leaders, athletes and coaches offer flowers at the monument of President Ho Chi Minh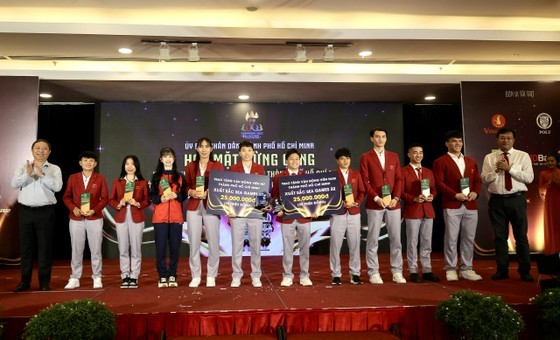 HCMC praises athletes and coaches winning medals from SEA Games 32
On this occasion, the municipal People's Committee awarded certificates of merit to 124 individuals who had good achievements at the SEA Games 32. At the same time, Nguyen Van Khanh Phong and Tran Thi Kim Thanh were honored as the best athletes of the SEA Games 32 voted by the Professional Council and experts in the sports sector in Ho Chi Minh City.
In addition, sponsors also donated VND4.3 billion, 210 scholarships for English courses worth more than VND4 billion, and 90 pairs of sneakers. Thanks to the sponsors, coaches and athletes received additional rewards. Athletes capturing gold medals received an additional sum of VND22 million while their peers with silver medals got an additional sum of VND15 million and those getting bronze medal received VND12 million.
Coaches of winning athletes were presented VND30 million while coaches, athletes who did not win medals, team leaders and referees received VND10 million each person and leaders of sport delegations received VND5 million a person.
Vietnamese athletes earned 136 gold medals, 105 silver medals, and 118 bronze medals in the SEA Games 32. Of these, athletes in HCMC scooped 31 gold medals, 24 silver medals, 20 bronze medals
In the afternoon of the same day, the Ho Chi Minh City sports delegation led by the Director of the city Department of Culture and Sports Tran The Thuan offered flowers at the monument of President Ho Chi Minh in front of the headquarters of the municipal People's Committee to report city athletes' achievements at the SEA Games 32.
Speaking at the ceremony, Vice Chairman of Ho Chi Minh City People's Committee Duong Anh Duc highly appreciated Vietnam's achievements recognizing the efforts of the Ho Chi Minh City athletes who have greatly contributed to the overall achievement of the Vietnamese sports delegation at the sporting event.
Ho Chi Minh City athletes who won gold, silver and bronze medals also have an additional level of talent incentives. Specifically, VND12.5 million was given to athletes with gold medals; VND8.5 million to silver medal winners and VND7 million to bronze medal winners every month for 2 years.