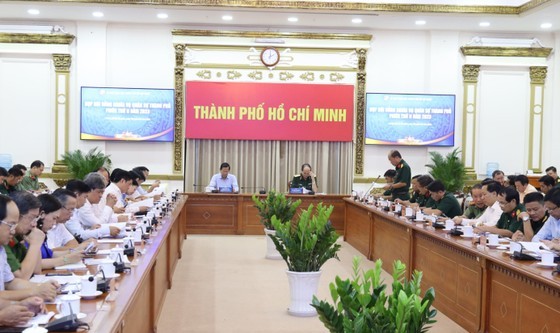 At the meeting
This afternoon, the municipal Military Service Council's second session was chaired by Mr. Phan Van Mai, Chairman of the city People's Committee cum Chairman of the Military Service Council.
At the meeting, a representative of the Ho Chi Minh City Police Department mentioned difficulties when the percentage of citizens with refractive errors is high. Statistically, nearly 300 new recruits with nearsightedness registered to become policemen. Many of them are from low-income families who can't afford eye surgery fees.
The Chairman of the People's Committee has directed to carry out eye operations on them since the beginning of 2023, but it has not been implemented until now. Therefore, no raw recruits receive financial assistance for the surgeries.
Mr. Phan Van Mai said that city leaders will check this matter as well as clarify who will be responsible for this.
Regarding this, Director of the City Health Department Tang Chi Thuong said that the Eye Hospital agreed to reduce the cost of surgery by 30 percent. With about 300-400 surgeries, the total cost is about VND9 billion-VND10 billion.
Answering the funding issue, a leader of the City's Department of Finance said that this year, relevant units have mobilized families and other fund sources for eye surgeries of these special recruits. He proposed that localities and related agencies estimate the amount to submit to the municipal People's Council for approval of the total funding.
At the meeting, Lieutenant General Nguyen Van Nam, Commander of the Ho Chi Minh City Command cum Standing Vice Chairman of the Military Service Council, assessed that army recruitment was done better in 2023 than the previous year.
Regarding the cost of eye surgery, the Lieutenant General suggested localities summarize the number of fresh recruits with eye diseases who need to undergo surgeries and report to the Chairman of Ho Chi Minh City People's Committee for approval of the funding estimate. Anyone does tattoos after a medical examination or an order to enlist, the Ho Chi Minh City Command will take appropriate punishment.
Mr. Phan Van Mai suggested that local administrators should listen to young recruits and their families from now until the day of the army handover to help them. Regarding the recruitment of young men to join the army, he requested that it be done openly and transparently on the basis of the law.