A special art performance program in celebration of the establishment of the ASEAN Economic Community (AEC), a major milestone in the regional economic integration agenda in ASEAN took place at September 23 Park in Ho Chi Minh City on December 30.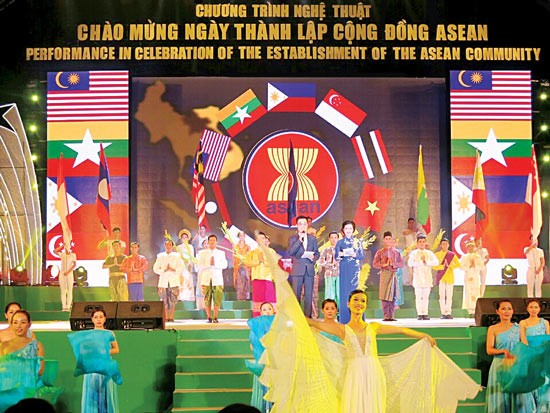 A special art program in celebration of the establishment of the ASEAN Economic Community (AEC)(Photo:SGGP)
The event was organized by Department of Ho Chi Minh City Culture and Sport.
Attending in event were Deputy Secretary HCMC Party's Committee, Chairwoman of HCMC People's Council Nguyen Thi Quyet Tam, representatives of departments and agencies, foreign affairs delegates and international organizations in Ho Chi Minh City.
Speaking at the opening ceremony, Deputy Chairwoman of the HCMC People's Committee Nguyen Thi Thu said: "Within 50 years of establishment and development of the ASEAN, Vietnam as well as Ho Chi Minh City has made positive contributions to the success of the ASEAN".
Ho Chi Minh City is considered as the economic and cultural center of Vietnam which always takes the lead in implementing bilateral cooperative and investment, tourism promotion actvities among ASEAN member countries.
Ms.Thu affirmed the city will continue to strengthen further cooperation relations with ASEAN's member countries in the upcoming years.
As ASEAN 2015 chair, Mr. Akmal Bin Abd, the Malaysian Consul General in Ho Chi Minh City was on behalf of representatives of Consul General of ASEAN countries in Ho Chi Minh City affirmed: "The establishment of AEC will bring development opportunity for the countries with low growth rate and small and medium enterprises as Vietnam".

The Malaysian Consul General appreciated uninterrupted contributions of Vietnam in the establishment of AEC and thanked the city's leaders and people for the art performance program to highlight the major event.