The Southern Hydro Meteorological Centre warned of extreme high tide of more than level 3 in the lower sections of the Saigon River in Ho Chi Minh City anytime from now until October 28.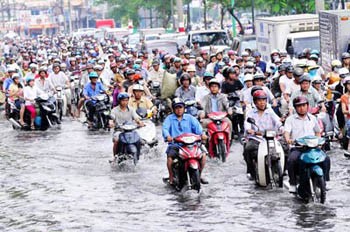 (File) A flooded street in Ho Chi Minh City (Photo:SGGP)
Heavy rainfall is also expected to add havoc along with the high tide, causing more flooding in inner city and suburban areas.
High tide levels will touch 1.54m at the Phu An Station on the Saigon River around 5:30 am and expected to touch 1.5m around 4:30 pm on October 27. Tide levels are expected to reach 1.54m -1.58m at 4 and 5:30 pm on October 27.
The Ho Chi Minh City Steering Committee for Flood and Storm Prevention has proposed to district people's committees to be prepared and alert, especially in highly vulnerable locations which may be inundated by floodwaters such as in Districts 12, Binh Thanh, Thu Duc, Go Vap, Binh Chanh, Cu Chi and Hoc Mon.
Besides, they should also take measures to prevent and cope with the flooding that will be caused with the high tide and release of floodwaters from the Tri An and Srok Phu Mieng reservoirs.
High tide flooded many areas in the Mekong Delta city of Can Tho on October 26.
Vuong Thi Lap, head of the city Steering Committee for Flood and Storm Prevention, said the city has sent alert warnings to all districts and asked for regular updates on the high tide situation from October 26 – 29. It has also asked local authorities to keep a close watch on the dyke system.