If HCM City wants to offer its residents quality living, the most important thing is to improve its environmental quality, a city leader told a meeting held recently to discuss how to deal with polluting companies.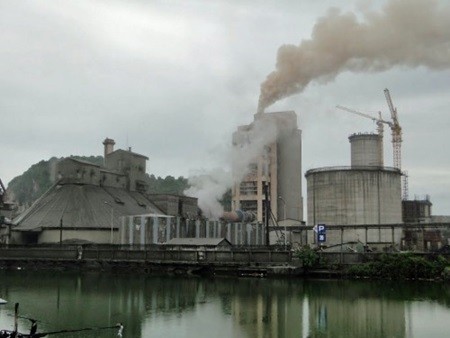 The Ha Tien Cement Factory causes air pollution in HCM City. If the city wants to offer its residents quality living, the most important thing is to improve its environmental quality. — Photo thiennhien.net
"To improve environmental quality, the city must close down all polluting enterprises and tighten management to not allow any new polluting ones," Deputy General Secretary of the city Party Committee and Deputy Chairman of the People's Committee, Tat Thanh Cang, was quoted as saying by Sai Gon Giai Phong (Liberated Sai Gon) newspaper.
After a programme to move out polluters ended in 2007 the city reported that there were no more polluting companies. However, since then around 835 workshops and companies have been found to cause pollution, 12 of them seriously.
"The number of companies investing in HCM City has increased sharply in terms of both quantity and quality, and some of them continue to pollute the environment," Nguyen Thi Thanh My, deputy director of the Department of Natural Resources and Environment, said.
Most polluters have been found to be small and very small units or households that lack the resources to install waste treatment systems.
Many companies that did move out of the city have chosen locations in the outskirts to build factories, which, due to lax oversight by local authorities, cause pollution there.
Outlying districts like Binh Tan, Binh Chanh, Hoc Mon, and 12 have in fact become hotspots of pollution by companies in the dyeing, textile, nylon, and plastic recycle industries.
"Many inspection teams come and penalise such workshops and companies, but the environmental pollution has not been stopped yet," My added.
Cang called for an immediate stop to the situation by stepping up checks and throwing the book at offenders, even taking them to court if required.
Those that have a deadline to get out of the city must follow the deadline and should be given no more time, he said.
"All seriously polluting companies must be moved in the first quarter of 2016."
Besides ordering the closure and moving out of polluting companies, the city People's Committee has also asked the HCM City Export Processing and Industrial Zone Authority (HEPZA) to speed up work on infrastructure at the Le Minh Xuan 3 Industrial Park.
"[All 835 polluting] companies will be moved to the industrial park and there will be no more pollution in the city," Cang said.
The industrial park is expected to open by the middle of next year.