The decision to change school and office timings by the Hanoi People's Committee has been approved by the Government, the Ministry of Transport and the Ministry of Public Security and expected to take effect December 1, 2012.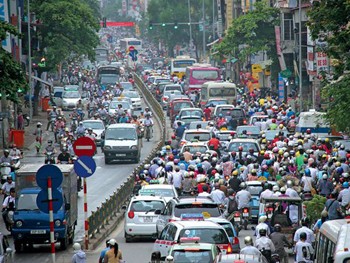 Hanoi hopes that change of office and school timings will greatly reduce traffic jams (Photo: SGTT)
Change in timings will affect three groups of people. The first group includes students from universities, colleges, vocational centres and high schools who will now start school at 6:30am and finish after 7pm.
Second group of secondary, primary and nursery school children will start school at 7:30am and end by 5:30pm while officials and civil servants will start office at 8am and end by 5pm.
The third group covers commercial centers and service agencies (not including banks and financial institutes) that will open by 9am and close by 7pm.

Hanoi City People's Committee on Tuesday said it is detailing the plan and will soon submit to the City People's Council for approval.