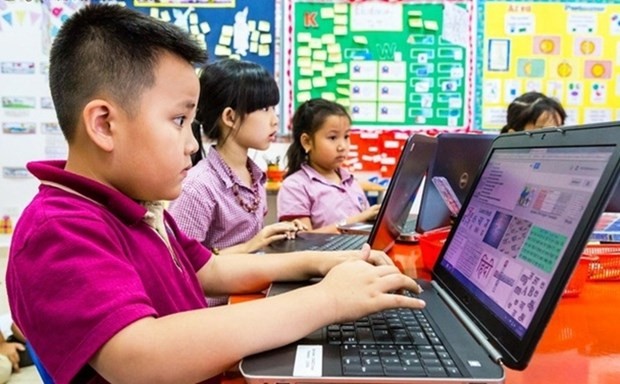 With the rapid development of information technology and the internet, children are facing many risks, including cyber-bullying. - Illustrative image (Photo: diendandoanhnghiep.vn)
With the rapid development of information technology and the internet, children are also facing many risks, including cyber-bullying.
The United Nations Children's Fund (UNICEF) has reported that one in five young people said they have been a victim of online bullying. Statistics show that about 750,000 sexual predators worldwide are online at any given moment, and over 3 million accounts registered across the 10 most harmful child sexual abuse sites.
Deputy representative of UNICEF in Vietnam Lesley Miller said these are worrisome numbers, and it is necessary to take urgent actions to address the situation.
According to reports of the national emergency telephone number for child protection, 111, it received nearly 420 calls about child protection in the online environment and 18 notifications about channels or video clips with harmful contents for children in 2022. The figures in the first five months of this year were 128 calls and three notifications.
Nguyen Ngoc Anh, an expert from the UNICEF's children protection programme, said strategies to address cyber-bullying and abuse should be part of the broader child protection strategies. Cooperation and coordination among stakeholders is key to success in this work, he stressed. UNICEF and the International Telecommunication Union (ITU) have developed the Guidelines for Industry on Child Online Protection for businesses, which outline solutions that businesses can take to protect and respect children, as well as for children to use the internet in a healthy and creative way.
Dang Hoa Nam, Director of the Department of Child Affairs under the Ministry of Labour, Invalids and Social Affairs, stressed that it is necessary to join hands in creating a safer and healthier digital environment for children. He underlined the need to learn from Vietnamese and international experience, thus rolling out more specific and practical measures to ensure safety for children on the cyber environment.
The legal system for protecting children in the online environment has been developed, including the Law on Children, the Law on Cyber Information Security, the Law on Access to Information, creating an important legal basis for the children protection work.
The Government and the Prime Minister have issued a number of important documents to protect children in the online environment, such as the National Action Program for Children in the 2021-2030 period and the programme on protection of and support for children.
Vietnam and other ASEAN member countries also agreed to adopt the Declaration on the Protection of Children from all Forms of Online Exploitation and Abuse in ASEAN in 2019, and the Declaration on the Elimination of Bullying of Children in ASEAN.