Farmers in the Mekong Delta region have sold rice to traders at a price which is VND1,000-1,500 lower the price announced by the Vietnam Food Association (VFA) that will ensure a 30 percent profit margin for them as per the Government's policy.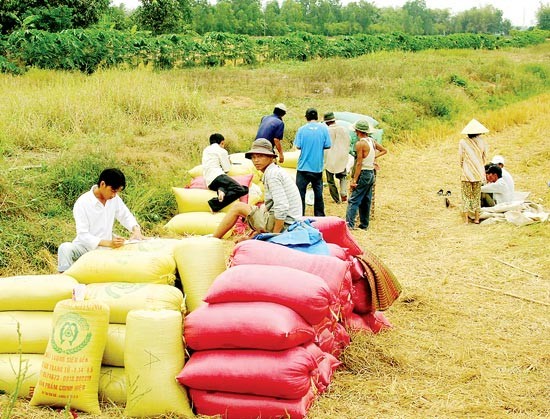 Traders buy fresh rice at fields in the Mekong Delta (Photo: SGGP)
That is one of issues presented by experts at five agricultural seminars in the Mekong Delta in the first ten days of December.
The Government's rice stockpiling program has been launched annually, in which VFA businesses purchase rice from farmers for stockpiling at a price that will ensure farmers the 30 percent profit margin.
The program aims to prevent farmers without storage facilities from selling their rice at low prices. The rice prices usually fall down amidst peak harvest time.
Early this month, VFA announced that dry normal rice prices swung from VND5,450-5,550 a kilogram in the Mekong Delta. The prices of long grain variety were from VND5,650-5,750.
In fact, that is the prices which businesses pay traders because they have purchased rice from traders instead of directly from farmers. As a result, rice growers have been unable to enjoy the policy of 30 percent profit margin.
Traders have paid farmers VND1,000-1,500 lower than the above prices. Those in remote areas of the Mekong Delta have sometimes sold the grain at much lower prices.