The Ministry of Agriculture and Rural Development has planned to build five fisheries centres nationwide in the 2015-20 period.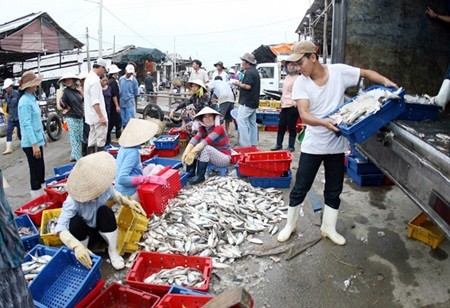 Fresh fish piled up for sale at the Long Hai Fishing Port, Ba Ria-Vung Tau Province. Five fisheries centres planned to be built by 2020 are expected to improve the quality of fish and seafood. — VNA/VNS Photo Huy Hung
The fisheries centres will be located in Khanh Hoa, Ba Ria – Vung Tau and Kien Giang provinces, Da Nang and Hai Phong City.
Each centre will work with major fishing areas to improve the quality and value of fish and other aquatic species.
The fisheries centre in Khanh Hoa Province, for instance, will work with south-central provinces and Truong Sa (Spratly) islands.
Speaking at a seminar held in Kien Giang Province on Tuesday, Nguyen Ngoc Oai, deputy head of Ministry's Directorate of Fisheries, said priority would be given to the building of the Khanh Hoa fisheries centre next year.
The Da Nang fisheries centre, which will work with fishing grounds in the East Sea and the Hoang Sa (Paracel) islands, would be built next, he said.
The remaining fisheries centres would be built between 2016 and 2020.
The fisheries centres each would have an administration building, a wholesale market, a parking lot, a refrigerated fish-storage area, a fresh fish storage area, a fishing port and other facilities.
The ports of fisheries centres would be able to accommodate fishing boats weighing up to 20,000 tonnes and have a storm shelter for fishing boats.
Participants at the seminar said over the past the country's investment in fishing ports and storm shelters had been low, especially in the central region, which has a high number of storms.
Between 2010 and 2014, about VND850 billion (US$40 million) was mobilised from various sources, including the State budget, and been used to upgrade 83 fishing ports nationwide.
The 83 fishing ports serve about 82,000 fishing boats.
Between 2002 and 2014, the country has invested in 70 storm shelters for fishing boats. Of those, 42 have been completed, for a total of 31,150 fishing boats.
The country has about 127,000 fishing boats, according to the ministry.
In the first 11 months of the year, the country's fishermen caught about 2.7 million tonnes of fish and other aquatic species, up 5.5 per cent against the same period last year, according to the Directorate of Fisheries.
Major fishing provinces like Kien Giang, Ben Tre, Khanh Hoa, Binh Thuan and Binh Dinh have seen an increase in the quantity of fish and other aquatic species caught this year.
Mai Anh Nhin, deputy chairman of the Kien Giang Province People's Committee, said Kien Giang had a large fishing ground and high potential for developing a sea economy.
Kien Giang had caught more than 462,000 tonnes of fish and other aquatic species this year, the highest quantity in the country, he said.
Kien Giang has more than 10,000 fishing boats.