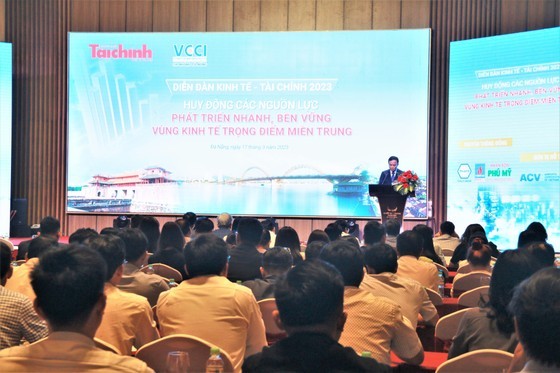 At the Economic - Financial Forum 2023
Deputy Director Nga spoke about this at the Economic - Financial Forum 2023 with the theme 'Mobilizing resources for rapid and sustainable development of the Central Key Economic Region' took place in the Central City of Da Nang yesterday afternoon.
Accordingly, the Central Key Economic Region has maintained a fairly high economic growth rate for a long time, about 6 percent annually from 2016 to 2022.
However, in order to develop commensurate with its potential, it is necessary to have more supporting mechanisms and policies to mobilize financial resources for the region's socio-economic development.
For the mobilization of financial resources for the Central Key Economic Region's development, in addition to completing a system of legal documents on finance taking into account the specific factors of the region, Ms. Nga emphasized the need of improving the revenue policy in association with restructuring state budget revenue in the direction of covering all revenue sources, especially new sources of revenue, in line with international practices, increasing the proportion of domestic revenue, and well exploiting taxes from natural resources together with environmental protection.
In addition, it is necessary to amend and supplement preferential policies on taxes and fees by narrowing the incentive areas but focusing and having preferential rates for enterprises, key industry and service projects of the region while continuing to review tax, fee and credit incentives to encourage development investment and simultaneously attract investment projects in the region's strengths including industry, supporting industries, service.
Regarding the allocation of financial resources for the development of the region, Ms. Nguyen Thanh Nga suggested that it is necessary to promulgate budget allocation norms including norms of investment and recurrent expenditures to ensure adequate resources for socio-economic development of the provinces and cities in the region.
Last but not least, Ms. Nga said that state budget capital should be poured into key projects with great spillover effects and solving regional and inter-regional development issues while continued calling for social contributions in education, training, and healthcare in advantageous areas and spending part of the state budget to support poor and disadvantaged areas.
Furthermore, the mobilization of social financial resources for investment in the development of public causes is encouraged; at the same time, the inspection and control of the use of capital by localities are strengthened to make sure that social welfare beneficiaries receive full and timely support from the State.
Diversification of financial resource mobilization and effective use of these resources are needed, especially investment resources outside the state budget. The efficiency of public investment, especially in formulating and managing the implementation of medium-term public investment plans should be improved to ensure the development requirements.
The government should strengthen measures to manage generated revenue, combat loss of budget revenue; promptly solve problems to promote economic development and increase budget revenue and continue structuring budget expenditure in the direction of increasing development investment spending, prioritizing resources for key tasks and key works, and reducing recurrent expenditures.
Finally, the government should pay heed to the quality of human resources, developing science and technology and innovation and innovative start-ups promotion and improvement of the investment and business environment.