HA NOI (VNS) — A documentary focusing on French filmmaker Andre Menras and his relationship with Viet Nam, will be screened in Ha Noi on Sunday.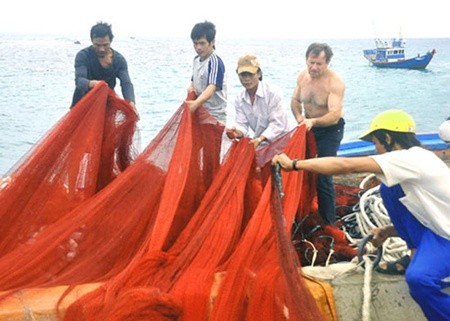 A friend of Viet Nam: Andre Menras (bare chested) goes fishing with Ly Son islanders. A documentary about him will be screened for Ha Noi audiences. — Photo vnexpress.net
Menras witnessed different periods in Vietnamese history and was a passionate advocate for the Vietnamese people.
Former President Nguyen Minh Triet granted him Vietnamese citizenship under the name Ho Cuong Quyet, for his love and contribution to Viet Nam as an anti-war activist.
It is one of five documentary films to be screened on Viet Nam's sea and islands produced by filmmakers of the Central Documentary and Scientific Films Studio (DSFS).
Some of the films were made during the national resistance war against the US and also detail the country's national construction and defensive efforts.
The films feature Viet Nam's diverse landscape and its people, but also helps verify Viet Nam's sovereignty over its territorial waters and related islands, said Pham Thi Tuyet, DSFS director.
The film screenings also form part of the activities organised to support residents and soldiers living and serving in the Paracel and Spratly archipelagoes.
The documentaries include Dau Song Ngon Gio (The Most Dangerous Position, 1967) by director Nguyen Ngoc Quynh, about the daily life and battles the islanders fought in Bac Bo (Tonkin) Gulf during the American war.
The film Truong Sa Thang 4 Nam 1988 (The Spratlys Archipelago in April, 1988) by People's Artist Le Manh Thich, details the life of soldiers on Sinh Ton Island (The Spratlys) involved in the immense struggle to defend the island from pirates.
Dao Ly Son, (Ly Son Island) produced in 2009 by Cong Thanh Duc, shows how residents and soldiers protected the island.
Director Dao Thanh Tung contributed two films, Bien Cua Nguoi Viet (Sea of Vietnamese People, 2012) which provides evidence that the Paracels and Spratlys belong to Viet Nam; and Andre Menras – Mot Nguoi Viet (Andre Menras – A Vietnamese Person, 2011), which depicts the first time he came Viet Nam in 1968 and how he was chosen to become a Vietnamese national.
The films are scheduled to be screened at the Central Documentary and Scientific Films Studio, located on 465 Hoang Hoa Tham Street, Ha Noi at 7pm. Admission is free