Foreign direct investment (FDI) registered in Viet Nam saw a year-on-year increase of 12.5 per cent in 2015 to reach US$22.76 billion, data from the General Statistics Office (GSO) revealed.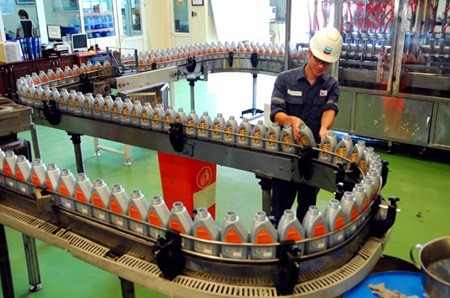 A worker operates a motor oil packaging line at Cheveron Vietnam in Hai Phong City's Dinh Vu Industrial Park. — Photo Danh Lam
Up to 2,013 projects with $15.58 billion in foreign investment were granted licences as of December 15, surging 26.8 per cent in terms of the number of projects, but plunging 0.4 per cent in terms of capital over the same period last year. Meanwhile, 814 existing projects were also allowed to increase their capital by $7.18 billion.
During the reviewed period, FDI disbursement reached an estimated $14.5 billion, surging 17.4 per cent year-on-year, GSO said.
The manufacturing and processing sector attracted the lion's share of FDI at $15.23 billion, accounting for about 67 per cent of the nation's FDI. The production and distribution of electricity, gas, hot water and steam, and air conditioners ranked second with $2.81 billion FDI or 12.4 per cent, while real estate trading came third with $2.39 billion or 10.5 per cent.
HCM City beat 48 cities and provinces to become the most attractive destination for foreign investors. The city lured more than $2.81 billion, comprising 18 per cent of the total FDI registered in the country. It was followed by Tra Vinh Province with $2.52 billion or 16.2 per cent, Binh Duong Province with $2.46 billion or 15.8 per cent, Dong Nai Province with $1.47 billion or 9.4 per cent and Ha Noi with $910.7 million or 6 per cent.
Other localities that also attracted FDI are Hai Phong City ($573.1 million), Tay Ninh Province ($503 million) and Quang Ninh Province ($374 million).
Among 58 countries and territories that have invested in Viet Nam, South Korea is the country's largest source of FDI with $2.68 billion, accounting for 17.2 per cent of the total new FDI, followed by Malaysia with $2.45 billion or 15.7 per cent and Japan with $1.28 billion or 8.2 per cent, besides the United Kingdom with $1.26 billion or 8.1 per cent and Taiwan with $940.4 million or 6 per cent.
Experts said Viet Nam was likely to attract more foreign investment next year and in the future because of the opportunities and advantages resulting from free trade agreements (FTAs).
Vo Tri Thanh, deputy head of the Central Institute of Economic Management, said of the FTAs, the Trans Pacific Partnership (TPP) deal and FTA between Viet Nam and the European Union would bring great opportunities for the nation and attract additional foreign investment, especially FDI.
If foreign investors came to Viet Nam to participate in production and business, they could approach large markets that are member countries of the FTAs, Thanh said.
These member countries include the US, Japan, Australia and Canada in the TPP, and European Union nations operating under the FTA.
Hoang Thi Chinh from the HCM City Economics University said Viet Nam would enjoy great opportunities from not only Japanese and American investments, but also South Korean ones.
There would be investments not in labour-intensive industries, but in fields that required hi-tech and intelligence, Chinh told Dat Viet online newspaper.
South Korean and Japanese investors might pour money into agriculture, while the US was likely to inject money into hi-tech fields, she said.