The Electricity of Vietnam (EVN) has proposed increasing the power price by an average 9.5 percent from this month.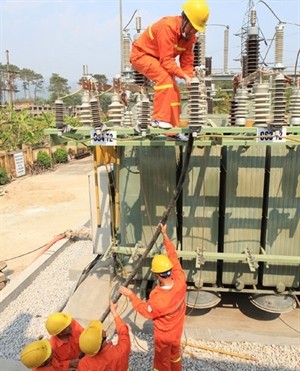 Workers at Northern Grid Company's Dien Bien branch install a transformer (Photo: VNA)
This means the power price will increase from VND1,508.85 per kWh to VND1,652.19 per kWh, according to the group.
The move will increase EVN's revenue to VND700 billion, which the group will use to fund its power production and business activities, reported the Thoi bao Kinh te Viet Nam (Vietnam Economic Times) newspaper.
However, a concerned official said that the increase should be applied from the first quarter of next year. The increase in power prices will bring the local prices on par with the rates in the other countries in the region, and attract more money from foreign direct investment enterprises that have enjoyed competitive advantages due to low power prices.
The increase will create a dynamic to attract more investment in activities relating to the supply of electricity, and develop a competitive domestic power market, he said.
He added that a power price hike now could have a huge impact on inflation, as the national inflation this year is expected to be less than 4 percent. There is an advantage as increasing the power prices will not put pressure on the consumer price index (CPI).
However, the official said that the price hike should be studied carefully to assess its impact on CPI and the gross domestic product (GDP) in 2015.
The proposal to increase the power price is within the framework of the Prime Minister's decision on the annual retail power prices in the 2013-15 period.
According to this decision, the range of average retail power price, excluding value added tax, is between VND1,437 and VND1,835 per kWh.
According to regulations, the period between two successive price adjustments should be at least six months. The current power price of VND1,508.85 per kWh was applied on August 1, 2013, which was 16 months ago.