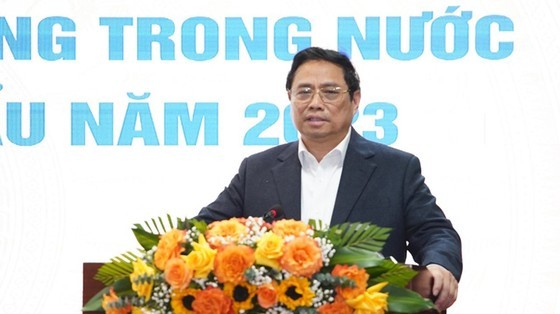 Prime Minister Pham Minh Chinh at the meeting
The Prime Minister made the statement at the Ministry of Industry and Trade's yesterday conference to promote domestic production and consumption and expand export markets in 2023 in Hanoi.
Speaking at the conference, Prime Minister Pham Minh Chinh praised the industry and trade sector's achievements in 2022 and January 2023, positively contributing to the country's overall achievements in the last time when the country faced difficulties.
The Prime Minister emphasized a focus on four master plans including national electricity planning, the master plan on national energy, national planning for storage and supply of petroleum and gas and planning for exploration, exploitation, processing, and use of minerals in order to develop the market, promote production, consumption and expand exports.
According to the Prime Minister's analysis of electricity-related issues, the country's electricity prices cannot be like that of developed countries because if the price is too high, people and businesses cannot afford it. Thus, he suggested that the Ministry of Industry and Trade must think carefully about this issue adding that the Ministry ought to share difficulties with residents and have to give serious consideration to the harmony between inflation and growth.
Along with that, the Ministry must ensure a sufficient supply of petrol and oil. Moreover, the Ministry should study and propose amendments to Decree 95/2021/ND-CP of the Government on petroleum business to reduce intermediaries and procedures, and increase inspection and supervision.
The Prime Minister asked the Ministry of Industry and Trade to coordinate with the Committee for Management of State Capital at Enterprises to direct investors to speed up the progress of key projects in the power, oil and gas, and coal industries.
With its experiences, the Ministry will apply it in handling cases including Thai Binh 2 Thermal Power Plant, and Song Hau 1 Thermal Power Plant in addition to continued deal with problems for Long Phu 1 Thermal Power Plant, Thai Nguyen Iron and Steel Factory project phase 2.
Prime Minister Pham Minh Chinh, Deputy Prime Minister Tran Hong Ha, and Minister Ministry of Industry and Trade Nguyen Hong Dien chaired the conference.