E-retailing or e-commerce has become popular in Vietnam since 2004 with the number of online customers having been on the rise. Many foreign giants have entered the Vietnamese market recently creating a race forcing local firms to be more professional unless being eradicated. It is said that this field will enter a booming phase in the next 5-7 years.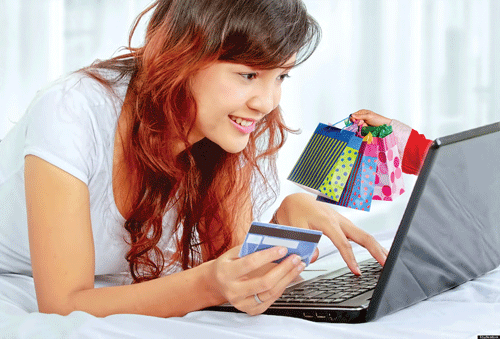 (Illustrative Photo: SGGP)
According to the E-Commerce and Information Technology Agency under the Ministry of Industry and Trade, nearly 220 e-commerce exchanges in a survey brought the total revenue of VND1.6 trillion last year, up 50 percent over the previous year. Seventy five percent of these went to top 10 websites.

Businesses to Consumer e-commerce's revenue hit US$2.97 billion, holding 2.12 percent of the country's total retail revenue.

The agency's head Tran Huu Linh said that 58 percent of 40 million internet users in Vietnam used to do online shopping. E-commerce revenue is forecast to hit US$4 billion this year. This is a good sign for Vietnam's e-commerce.

Blooming in the country since 2004 the industry has seen the attendance of many foreign giants under direct investment such as Lazada or Zalora. Many have also invested in Vietnamese online retailers.

The number of foreign online shopping websites was small but they held up to 59 percent of market revenue in 2014, up 15 percent over 2013.

Lazada under Rocket Internet of Germany has been the most mentioned name for the last two years. After three years present in Vietnam, Lazada exceeded 216 e-commerce exchanges there to top in revenue and held 36 percent of the market share last year.

It was followed by Sendo with 14.4 percent, Zalora with 7.2 percent and Tiki with 5.4 percent.

The presence of foreign investors has created a severe competition sending many e-commerce exchanges to close down because they cannot compete with giants in capital.

Early November, website beyeu.com officially shut down. It said e-commerce needed a lot of money and many companies had decided not to burn their money any more.

Foodpanda of Rocket Internet has been sold to Vietnammn.com.

The severe competition has sent Vietnamese businesses to join hand with foreign investors.

Taembe has recently received a total investment fund of US$228,000 from Swiss Founders Fund. Formerly, Sen Do company of FPT Group, owners of two e-commerce exchanges Sendo and 123Mua, coordinated with three Japan's leading internet service providers namely SBI Holdings, Econtext Asia and Beenos. Tiki.vn has sped up cooperation with Japanese partners.

Meantime, Vingroup has started attending the e-commerce market last year with the establishment of VinEcom with chartered capital hitting over VND1 trillion.

In August VinEcom launched Adayroi exchanges with some special commodities such as automobiles, motorcycles and fresh food. The group is expected to become a counterpoise of foreign giants such as Lazada.

Low consumers' confidence

The most difficulty in e-commerce development in Vietnam is that consumers have not been in the habit of online shopping. They still want to touch and see products directly before deciding to buy or not, said chairman of Vietnam E-Commerce Association in HCMC Nguyen Ngoc Dung.

A lot of Vietnamese have not believed in online shopping. Reports by the E-Commerce and Information Technology Agency indicate that up to 44 percent of internet users equivalent to 14 million people have never done online transactions.

A survey by Neilsen Company shows that 22 percent consumers do not believe in internet information, 15 percent afraid of distribution costs and 11 percent complain about enigmatic information and search inconvenience on websites.

Online sellers have provided counterfeits with prices like genuine, posted price highly before offering discounts, provided goods with quality unlike advertisement, and continuously bothered consumers with mail bombs.

Head of the E-Commerce and Information Technology Agency's southern office Nguyen Thi Hanh said that Government decrees 52 and 77 regulated that e-traders must get consumers' permission before emailing them. However, the regulation has not been implemented seriously.

The agency has built a draft circular on mobile-based e-commerce management and now is getting opinions of businesses before submitting it to the Government for approval.