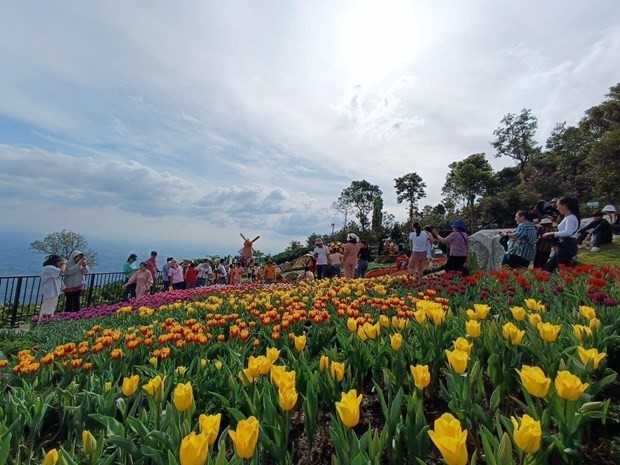 Visitors to Ba Den Mountain in Tay Ninh province (Photo: VNA)
Not Chinese travellers or any other sources of international tourists, it is the domestic sector that will remain the "brightest" factor helping Vietnam's tourism continue recovering strongly in 2023, Nguyen Huu Y Yen, General Director of the Saigontourist Travel Service Co. Ltd, said as cited by Thanh nien (Young people) newspaper.
He said before the Covid-19 pandemic broke out, the three biggest sources of foreign visitors to Vietnam were China, Russia, and the Republic of Korea (RoK).
Charter flights from the RoK have been resumed just recently while there haven't been many Chinese tourists, and Russian tourists haven't returned. The European and US markets have begun to bounce back but are unlikely to record a breakthrough in 2023, he pointed out.
Yen expected the number of international tourists in 2023 will return to about 50% of the 2019 level. Meanwhile, in just over six months of 2022, the number of domestic travellers rebounded to over 50% of the pre-pandemic level, and this year's figure will definitely reach 70 - 75%. Outbound tourism will also share the same trend.
The domestic market can regain the 2019 growth in 2024, the Saigontourist CEO predicted.
About 9 million Vietnamese travelled during the recent Lunar New Year holiday, surging 47.5% year on year, statistics show.
Nguyen Trung Khanh, General Director of the Vietnam National Administration of Tourism, expressed his belief that 2023 will be a vibrant year for Vietnamese tourism in terms of both domestic and international markets.
He cited some experts as saying that the world will witness vigorous growth in travel demand this year. As a bright spot in the global tourism map, Vietnam will definitely not be out of this trend.