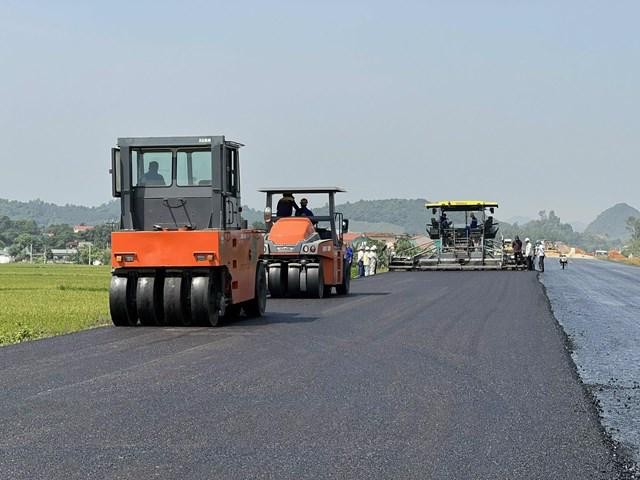 The public investment assigned to the transport ministry in 2023 was the largest ever. — Photo kinhtedothi.vn
Vietnam has been accelerating the disbursement of public investment since the beginning of this year after missing its target in 2022.
At the Government's monthly meeting last Thursday, Prime Minister Pham Minh Chinh called for management to be enhanced to speed up the progress of major projects, especially key traffic works.
"The disbursement of public investment must be accelerated from the beginning of the year," he stressed, adding that the focus must be on the project preparation works and capital allocation.
Agencies and localities were also gearing up for the disbursement of public investment.
Hanoi and HCMC - the country's economic locomotives - recorded the highest disbursement of public investment capital in January, with nearly VND2.7 trillion and more than VND1.63 trillion, respectively, according to the General Statistics Office.
In January, an estimated VND27 trillion from the State budget was disbursed, including VND4.2 trillion managed by the State, or 3.1 percent of the annual plan and up 15.7 percent compared to the same period last year.
The remainder was managed by local authorities, equivalent to 4.2 percent of the annual plan and a rise of 1.2 percent over 2022.
According to the Ministry of Finance report, public investment disbursement totaled VND529.28 trillion in 2022, meeting 80.63 percent of the plan.
Thirteen ministries, centrally-run agencies and 20 localities recorded disbursement rates of over 90 percent.
Transport ministry prepares for the highest-ever public investment
Minister of Transport Nguyen Van Thang has issued a directive on speeding up the progress of pubic investment disbursement in 2023.
The public investment assigned to the transport ministry in 2023 was the largest ever, totaling VND94.161 trillion, 2.2 times higher than in 2021 and 1.7 times higher than in 2022.
He urged increased efforts to meet the schedule and ensure the project's quality in the disbursement of public investment, together with transparency and preventing loss and waste during the implementation process.
Ensuring quality was the priority, Thang said: "Special attention must be paid to ensuring the quality of the projects with quality considered a top priority right from the stage of investment preparation."
Regular reviews and updates must be carried out to promptly detect problems in the implementation and timely raise handling measures.
Capital from stagnant and inefficient projects must be transferred to projects with good disbursement rates and was in capital shortage.
Inspection must be strengthened, especially on key projects and projects under the socio-economic recovery and development program, including projects of the North-South Expressway, My Thuan – Can Tho Expressway, Bien Hoa – Vung Tau Expressway, Khanh Hoa– Buon Ma Thuot Expressway and Dai Ngai Bridge.
The ministry would work with relevant ministries, agencies and localities to remove difficulties in land clearance and supply sources of raw materials.