The spectacular light party is expected to attract a large number of local and foreign visitors, contributing to the post-pandemic recovery of tourism and the economy of Da Nang.
The done work volume of a 5,000-seat stage reached 98 percent. The stage covering on an area of 1,050 square meters located on the Han River's bank on Tran Hung Dao Street. The addition of stage lighting effects using modern laser and LED technology will help the show to look more attractive.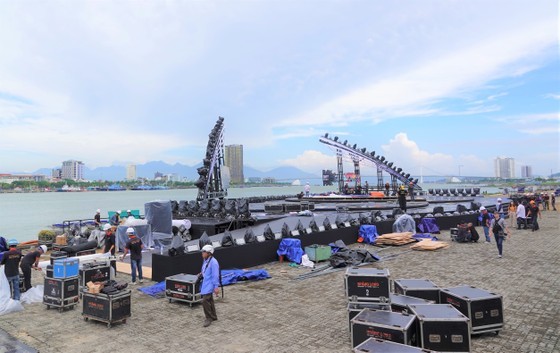 The done work volume of a 5,000-seat stage has reached 98 percent. (Photo: SGGP)
The People's Committee of Da Nang City has moved boats and waterway transport operators from Han River port to the water area and wharf at the Central Regional Oil Spill Response Center on the western side of the Nguyen Van Troi Bridge to ensure safety for visitors and the firework competition.
According to travel agents, Da Nang International Firework Festival is also presented in domestic and international tour programs to draw travelers.
Deputy Director of Hai Van Cat Travel Company Nguyen Ngoc Thien said that many tourists have learned about the competition, participating teams, fireworks performances, and ticket prices.
Boat cruises across the Han River and rooftop hotels along the river also offer many packages for those who want to enjoy fireworks displays.
This year's event themed "The World without Distance" is not only an opportunity for countries to exchange but also a new vitality after the Covid-19 pandemic. It will provide a lot of experiences of Da Nang, said Nadia Shakira Wong, director of fireworks organization consulting firm Global 2000, which is the producer of the 2023 firework festival.
The event will take place on the banks of the Han River with the participation of eight teams from the UK, Italy, Poland, France, Australia, Canada and Finland, and Vietnam.
Launched in 2008, the Da Nang International Firework Festival (DIFF) has become one of the largest festivals of its kind in the country. The competition was promoted as an international festival to attract tourists from all over the world.
The 2019 Da Nang International Firework Festival (DIFF), themed 'Stories by the Rivers', took place from June 1 to July 6 and drew nearly one million visitors.
Images of the last works of a 5,000-seat stage located on the Han River's bank: