Head of the Southwest Steering Committee's Economic Division Tran Huu Hiep proposed to build a clear legal framework and effective coordination model to improve the current weak connectivity among sides involved in farming production, processing, preservation and consumption.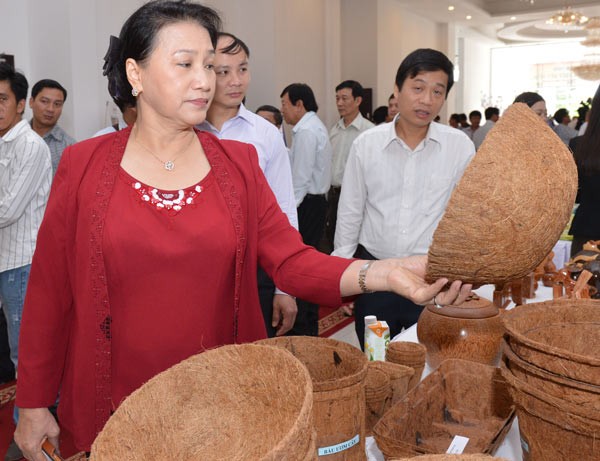 National Assembly deputy chairwoman Nguyen Thi Kim Ngan sees products showcased at the seminar in Ben Tre province (Photo: SGGP)
Hiep made the statement at a seminar on sustainable development of agricultural value chains hosted by Sai Gon Giai Phong Newspaper in the Mekong Delta province of Ben Tre on December 1.
According to Mr. Hiep, localities have signed many cooperation programs but they have yet to create a connectivity as expected because there has neither a clear legal framework nor effective coordination model.
The programs have been implemented at government to government level in some provinces and cities and based on voluntary agreements without legal obligations resulting in low efficiency.
The connectivity among four sides including farmers, businesses, scientists and the Government has been long talked about. On the other hand, the link among production, processing, preservation and consumption has still showed many limitations.
Sharing the same view, associate professor Vo Thi Thanh Loc from the Mekong Delta Development Research Institute, said that the connectivity is divided into many parts with disadvantageous one going to farmers.
Therefore, the Government should have policies facilitating and boosting the four side connectivity to minimize disadvantages to farmers, she added.
Dr. Pham Nguyen Minh, head of the Vietnam Institute for Trade, said that joining in global value chains will help businesses and farmers catch market information to sell what the market needs not those they have.
Value chains linking production, processing, consumption of farm produce is the best way to develop agriculture sustainably, said deputy chairwoman of the National Assembly Nguyen Thi Kim Ngan.
Deputy Minister of Planning and Investment Nguyen Van Hieu proposed nine macro solutions, for instance, authorized agencies should submit to the National Assembly a national planning law, issue preferential financial policies to production and trading of national key products, innovate awareness and regulations on private land ownership and farming land limit to each household, and establish a national seedling institution and brand name agency.
Deputy Minister of Labor, Invalids and Social Affairs Dao Hong Lan said that agricultural chain comprises many phases and different subjects. Farmers' role and knowledge improvement is the key factor. Still, the rate of trained rural laborers has been low, reaching only 5 percent by the end of the second quarter this year.
To solve this issue, the Government has launched a number of training programs and tasked the Ministry of Agriculture and Rural Development to build a plan in accordance with the new rural building policy to improve production skills for farmers.
Deputy Minister of Agriculture and Rural Development Le Quoc Doanh said that businesses can not connect with each single household to develop value chains.
The ministry is now building a decree on cooperatives to submit to the Government for approval to tighten the four side connectivity.
At first, the Ministry will choose two key products including rice and coffee to pilot value chain models under the agricultural restructuring program.
It will put forwards revised policies on production and consumption affiliation and large scale paddy fields by next October at the latest.
Related article:
Seminar seeks sustainable development of agricultural value chains