It was recorded on July 27 that hectares of paddy fields of farmers in Tay Xuan Commune in Tay Son District, Binh Dinh Province were dead because of drought.

Mrs. Nguyen Thi Tanh, a 62-year-old farmer of Binh Phu 2 Cooperative in Tay Xuan Commune, said that her 1,500 square meters of rice were on the verge of withering due to drought. She has been struggling to look for water to save her paddy field for the whole month over fear of hunger. Some wealthy farmers spent money on drilling water wells in their fields to get water to keep their crops alive. Without money to drill a water well, Mrs. Tanh had to spend VND300,000 on renting a water pump to save hers.

Mr. Khong Vinh Thien, chairman of the Binh Phu 2 Cooperative, sadly said that hot weather has been prolonged since the beginning of this year so it is unavoidable for paddy fields to be dried and cracked. Farmers have sought for every solution, such as using water pump or drilling water wells but they are unable to save their paddy fields. The cooperative's 135 hectares of rice were all affected by drought, of which 9 hectares of rice were dead. Now, they will drill water wells to make the most of the remaining water source to save as many area of rice as possible.

Five cooperatives in Tay Son District grew rice on the same day, paddy flowered in the same period and they all got water from Ham Ho Dam. However, at the present, the dam is almost dried up, leading to the situation that farmers intensely fight over the water source.

Meanwhile, Mr. Nguyen Tan Lai, head of the Department of Agriculture and Rural Development of Duc Pho District in Quang Ngai Province, said that there has never been as dreadful drought as this year in the past 20 to 30 years. Drought occurred from the forest to the delta and to coastal villages. Paddy fields are parched and kept idle. Trees in the forests are also wilted and vulnerable to wildfire. People are seeking for water source everywhere.

There are more than 50,000 people in Binh Dinh Province having seriously suffering a shortage of water, concentrating in Tuy Phuoc, Phu My, An Nhon, Tay Son and Van Canh districts. Amid the situation, leaders of the provincial People's Committee have required provincial police to mobilize vehicles and forces to transport water to people in drought-hit regions.

According to Colonel Nguyen Van Long, head of the Fire and Rescue Police Department of Binh Dinh Province, they mobilized six fire trucks and 36 firefighters to get water from water plants in Tuy Phuoc and Phu My districts and bring to thousands households in the most severe drought-hit places.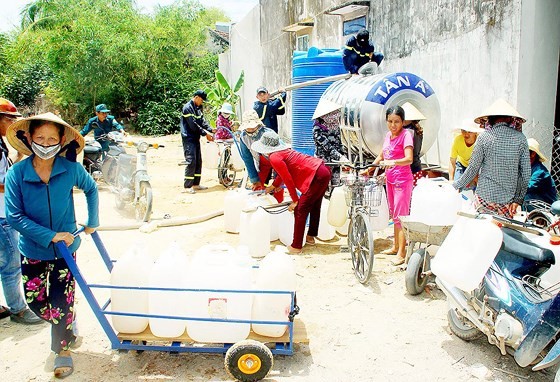 People in Binh Dinh Province receive clean water from the provincial Fire and Rescue Police Department. (Photo: SGGP)

In Phu Yen Province, Mr. Tran Huu The, vice chairman of the provincial People's Committee, said that, in order to cope with drought, the committee has instructed relevant departments to increase water regulation and water supply so as to ensure enough water for local people and increase exploitation of underground water to save people. In addition, the province also entrusted the Department of Finance and local authorities to balance the budget to buy clean water for people in underprivileged areas and instructed the military, the Environment Company and Dong Cam Irrigation Company to provide vehicles to transport water to places seriously affected by drought. Mr. Vu Duc Long, deputy director of the National Center for Hydro-Meteorological Forecasting, said that weak El Nino will be maintained from now to around November this year with probability of around 50-55 percent. After that, the El Nino Southern Oscillation will possibly return to neutral state but will incline to hot phase from December this year. Under impacts of El Nino, the temperatures in the next months of this year across the country will be higher than average temperature level in the same period last year. Therefore, from now to August, heat waves will continue to occur in the Central of Vietnam while the mountainous region of the Western Central will suffer severe hot weather. Precipitation will be slightly higher next month but it is not much. As a result, from now to the end of August, water flows on rivers in the Central of Vietnam will continue to drop and be lower than average level by 40-50 percent. Especially, water flows in some places, such as Quang Nam, Binh Dinh and Phu Yen provinces, will suffer a loss of more than 80 percent. Downstream of some rivers will possibly have highest salinity level from the end of July to the beginning of August. In the South, since the beginning of June, total rainfall on the Mekong River basin has been 30-80 percent lower than average level of many years and 33 percent lower than the same period in 2015. Total water flows through stations on the mainstream of the Mekong River short by 35-45 percent. Water levels are 2.5-5.5 meters lower at stations on the upstream of the Mekong River, 3-6.2 meters lower at stations on the middle stream and 2.5-5.4 meters lower at stations on the downstream. At some stations on the middle and downstream of the Mekong River, including Pakse in Laos and Strungtreng in Cambodia, water levels have been lower than those in 2015 and dropped to the lowest level in the same period. The water level in the freshwater Tonle Sap in Cambodia is about 2 meters lower than average level and around 0.5 meters lower than that in the same period in 2015. The highest water level of the day at the source of the Mekong River is lower than average level in the same period by 0.5-0.9 meters, approximately the same period in 2010 and lower than the same period in 2015. Therefore, it can said that the current water flow in the Mekong Delta is extremely depleted.
The latest statistics of the Directorate of Water Resources under the Ministry of Agriculture and Rural Development showed that drought has caused more than 28,000 hectares of rice and vegetables in the Central of Vietnam to suffer a shortage of water. Quang Ngai, Binh Dinh and Phu Yen provinces suffer the most with nearly 17,000 hectares of cultivation land being affected. Moreover, more than 110,000 households in these three provinces lack of clean water.