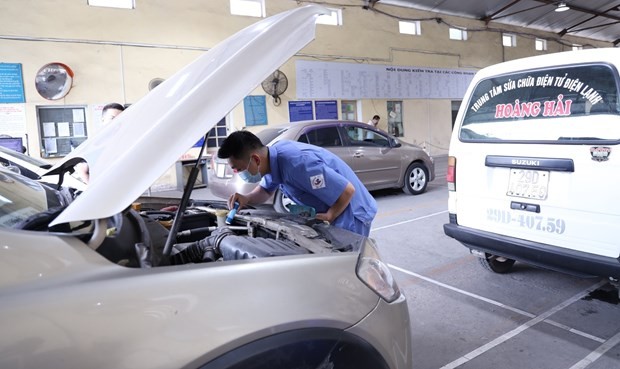 A car is examined at a registration center. (Photo: vietnamnet.vn)

The move was made in response to repeated overload on the VR website on recent days.
On June 3, the first day of enforcement of the MoT's Circular 08/2023/TT-BGTVT that amends and supplements some articles of Circular 16/2021/TT-BGTVT on technical safety and environmental protection examination in streamlined procedures, the VR uploaded to its system 6,435 certificates of the validate time of registration certificates and stamps of the cars with registration expiring on June 3 and 4 and expiry dates automatically extended.
The VR website recorded up to 3.6 million visits to check the validate time certifications as of 4:30pm on June 3, or 2.57 times higher than the 1.4 million cars entitled to automatic registration expiry extension.
The administration said there are nearly 2.96 million passenger cars with nine seats and below not providing transport services nationwide, including nearly 1.4 million vehicles entitled to automatic extension of the validate time shown on their registration certificates and stamps between June 3, 2023 and June 30, 2024. Meanwhile, more than 1.56 million others are not entitled to this extension.
It is necessary to issue the certificates of the validate time of registration certificates and stamps to differentiate the two groups of vehicles, the VR said, noting that the certificates are granted automatically by its online software.
The issuance is expected to ensure convenience for people and enterprises when applying for registration certificates and stamps and moving on roads, and also prevent congestion at registration centres.
However, the validate time certificates cannot be used to replace the registration certificates and stamps, the VR added.