MANCHESTER, United Kingdom, Sept 20, 2010 (AFP) - Sir Alex Ferguson believes Dimitar Berbatov is finally ready to dominate the Premier League after the Bulgarian struck a superb hat-trick to sink Liverpool on Sunday.
Derided in some quarters as a 30-million-pound misfit since signing from Spurs in 2008, Berbatov repaid the faith shown in him by Ferguson with a goal-scoring masterclass in a classic 3-2 victory at Old Trafford.
After an underwhelming season last term, Berbatov now has seven goals in six games in all competitions of the new campaign including a stunning second, via an overhead kick, against Liverpool.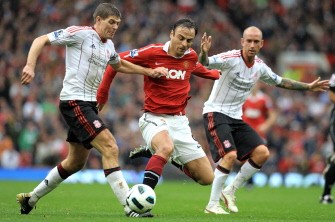 Dimitar Berbatov (C) vies with Liverpool's English midfielder Steven Gerrard (L) and Liverpool's Raul Meireles during the match at Old Trafford on Sep. 19. AFP
In his pre-game programme notes, Ferguson warned Berbatov that the current campaign is a "big season for him" and the club record signing responded in the right manner.
"The second goal was unexpected, a surprise attempt," said Ferguson.
"Not many of those end in the net, we see that time and again, but fortunately it did today.
"We are probably now beginning to see Dimitar believe in himself. There was a lot of criticism of him last season, but it happens when players sign for United for a lot of money and they aren't scoring hat-tricks in every game.
"That's the way of the world with some players who come here, but this season he has started in the right fashion. His training has been good, he was good on the pre-season tour and he has carried it on.
"There has never been any doubt about his quality and we have seen it again today."
Ferguson's well-known desire to beat Liverpool was evident in the build-up to the latest meeting between the old rivals and, following the victory, the veteran manager took delight in the win.
"It was always going to be a test," he said.
"The build-up to these games is such that, if one doesn't win, it's a catastrophe. For Liverpool, this is a catastrophe.
"People are now talking about Liverpool not winning and it would be the same if we hadn't. That's the nature of these games."
Ferguson was also less than complimentary about Liverpool striker Fernando Torres, who won a free-kick from which Steven Gerrard scored Liverpool's equaliser after a foul on him by John O'Shea.
"I've watched it," said Ferguson. "Definitely, Torres made a meal of it, an absolute meal of it. There's no doubt he tried to get the player sent off."
After Gerrard had scored a penalty and a free-kick to level the score, Berbatov netted an 84th-minute winner to secure the three points.
Having seen his side let leads slip against Fulham and Everton already this season, the Bulgarian was relieved to emerge with three points.
"Obviously, it was going through my mind when it was 2-2," said Berbatov.
"But we showed we have good fighting spirit and are always fighting until the end.
"Today we scored a third but let's hope in the future we are not going to complicate it so much. We will keeping working and keep improving. There is a long way to go and, hopefully, in the end we will be on top."
Roy Hodgson, the Liverpool manager, attempted to put a positive view on the position in which his club finds itself, on the day that further revelations emerged about their uncertain financial future.
"We are certainly in a transitional period," said Hodgson. "I don't think that should be seen as a negative per se, they can be very good for a club.
"The task has been complicated because I haven't had a lot of time to get to know the players because of the World Cup and, with the Europa League qualifiers, the competitive football has come quickly.
"We've lost two league games to (Manchester) City and United away. At the moment, realistically, perhaps we need to say that's going to happen and we have to get better to make sure that doesn't happen again in the future."
Hodgson, an old friend of Ferguson's, responded diplomatically to the United manager's claims that defeat was a "catastrophe" for the Anfield side.
"I respect what other managers say and their opinions and don't wish to get involved in any way in terms of discussing what they do or do not say," he said.
"But catastrophe is a bit strong. We are a long way behind Chelsea and, I suppose, in terms of winning the title you could say it's a catastrophe.
"Our aim is still to get better and get back into the Champions League and that's the focus for me this season."