The ASEM Green Growth Forum, with the theme "Jointly acting towards green economies" opened in Hanoi on October 3, drawing the participation of 180 local and foreign delegates.
Initiated by Vietnam at the eighth ASEM Summit in Belgium in 2010, the forum is co-sponsored by Germany, the Republic of Korea, the UK and the Netherlands.
Opening the forum, Vietnamese Deputy Prime Minister Vu Van Ninh reaffirmed the importance of the ASEM Green Growth Forum. It is one of the important events of ASEM in 2011 and offers a chance for Vietnam as well as other member countries to share experience in this new issue.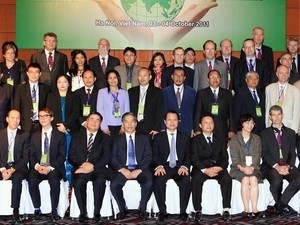 Vietnamese Deputy Prime Minister Vu Van Ninh (front, 4th R) and delegates pose for a group photo in Hanoi October 3, 2011 (Photo: Vietnam News Agency)
He stressed that green growth is not only a momentum for global economic recovery but also a model and tool to promote sustainable development based on three mutually-influential factors, namely economic development, social security and environmental protection.
Building a green economy will bring in great socio-economic benefits and help realise the Millennium Development Goals (MDGs), Ninh said, adding that many ASEM members have taken the lead in building green economy and considered green growth as a national development orientation in the coming decades.
The deputy PM stressed that, in its 2011-2020 socio-economic development strategy, the Vietnamese government advocates combining rapid, sustainable economic development with social progress and equality, and environmental protection. Vietnam is outlining a green development strategy through 2020, he added.
Vietnamese Deputy Minister of Foreign Affairs Doan Xuan Hung said that ASEM is one of the inter-regional forums, which has led in terms of fostering green growth.
The contents and recommendations put forth at this forum will be included in the agenda of the 4th ASEAN Environmental Ministers' Meeting scheduled for 2012 in Mongolia, he noted.
International delegates held that in the current context when climate change is posing a regular threat, green growth has become an issue of common concern by many countries throughout the world.
Therefore, ASEM should play a leading role in promoting the model of green growth, developing new technologies and sharing experience in the entire region, they said.
During the two-day forum, participants will share experience in making and carrying out national strategies on green growth. They will also discuss ways to enhance the role of organisations in promoting the green growth model as well as strengthen cooperation among ASEM members.