Many experts have given support to the Ministry of Transport's policy of selling operation rights of some airports, seaports and highways to take capital for traffic infrastructure development. However they advised that these works should be sold to right investors to prevent "putting new wine into old bottle" and the Government should have operation requirements for investors to comply with.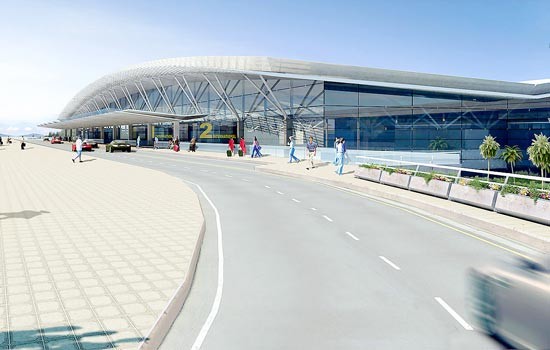 Many investors show interest in Phu Quoc International Airport which operation rights have been offered for sale by the Ministry of Transport (Photo: SGGP)
Investors have paid most attention to airports. Right after the ministry announced its policy of selling Phu Quoc International Airport and T1 Terminal at Noi Bai International Airport, private low cost carrier VietJet Air and the national flag carrier Vietnam Airlines have proposed to purchase the terminal.

Afterwards, low-cost airline Jetstar Pacific expressed its desire to acquire the exploitation right of the old terminal at Da Nang International Airport in 15-20 years.

Many businesses unfamiliar to the aviation industry such as T&T Group have expressed a wish to buy Phu Quoc Airport.

Dr. Huynh The Du, lecturer of the HCMC University of Economics' Fulbright program, said that the ministry's move was a good signal to attract social resources for the development of traffic infrastructure in the country.

However, most of those having proposed to buy airports and seaports are state owned enterprises (SOE) in the transport industry.

One of the most important purposes of the ministry's policy is to lure social resources. If the ministry sells these works to other SOEs, it sounds like putting its hands into the state budget pocket to get money.

If these enterprises do not use the state budget and get loans for the purchase, the Government will have to act as guarantee for them to do so.

Besides, many possible purchasers are under equalization and attract capital resources from non-public sectors for investment and development.

Another anonymous economic expert said that if the operation right was transferred from this SOE to another SOE, it would be nothing new.
The Government must absolutely keep out from parts calling for social investment.

Dr. Tran Du Lich, deputy head of HCMC National Assembly Delegation, said that the ministry should not worry about the experience of non-public investors because they can hire professional operators of airports and seaports.

However it should give requirements in these works' exploitation and keep a close eye on businesses' conformation, he suggested.

Sharing the same view, Dr. Du said that the Government should provide specific requirements for investors to exploit and upgrade the sold works.

Many South American nations had suffered the bitters of similar sale because private investors hardly made any investment in acquired works. They just focused on exploiting until there was nothing left for them to do so. In the end, they went away leaving behind outdated and downgraded technical infrastructure systems.

Therefore, the Government should not be hasty but carefully consider the current management efficiency of airports and seaports compared to it in post-sale phase. Operation right should be handed over only when new investors can brings better effectiveness, he said.

Airports, seaports and highways play an important role to not only economic development but also public order. Thus, the ministry should carefully choose the best investors to transfer their operation rights to.