Viet Nam's GDP growth is likely to reach 6.5 percent this year as the country's economy has weathered the recent turbulence in the external environment fairly well, said the World Bank (WB)'s latest report released yesterday.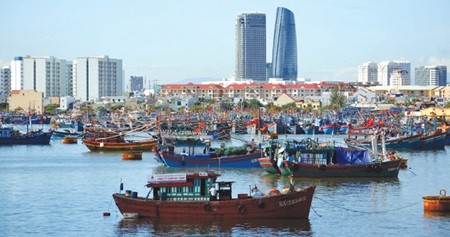 Vessels in Da Nang City's Tho Quang Fishing Port. Viet Nam's GDP growth is predicted to reach 6.5 per cent this year, the World Bank said yesterday. — VNA/VNS Photo Van Nhieu
Victoria Kwakwa, WB Country Director for Viet Nam, said stronger domestic demand, robust export performance, low inflation and improved confidence have enabled Viet Nam to create firmer foundations for mid-term growth.
It is a good time for Viet Nam to solidify macroeconomic stability and rebuild policy buffers through decisive efforts to rein in fiscal imbalances and tackle remaining vulnerabilities in the banking sector, she added.
According to the report, Viet Nam's better macroeconomic conditions helped maintain stability in the banking system.
On the external front, Viet Nam's export performance remains strong, with total export turnover increasing by 9.2 per cent from the same period last year, mostly thanks to strong growth of manufacturing exports, especially high-tech products such as cell phones, electronics, and computers.
The medium-term outlook for Viet Nam remains positive, with growth projected to be maintained and inflation expected to remain low. However, slow restructuring progress poses risks to medium-term growth prospects while delays in fiscal tightening could undermine sustainability of public debt, said the report.
Pham Minh Duc, an economic expert from the WB, said the Trans-Pacific Partnership (TPP) Agreement is expected to bring great benefits to Viet Nam once the globe's largest trade deal takes effect.
Among the current TPP signatories, Viet Nam, as the economy with the lowest per capita GDP, has unique comparative advantages, particularly in labour-intensive manufacturing.
Estimations suggest that the TPP could add as much as 8 per cent to Viet Nam's GDP, 17 percent to its real exports, and 12 per cent to its capital stock over the next 20 years. Despite various implementation challenges, the impact of the TPP on Viet Nam is expected to be positive.
"The recently concluded TPP will not only improve market access, but will also serve as a critical anchor for the next phase of structural reforms in Viet Nam," said Sandeep Mahajan, a WB economist.