After two years of implementation, the disbursement of the VND30 trillion (US$1.4 billion) credit package for social housing project has merely reached 12 percent due to administrative procedures and loan requirements.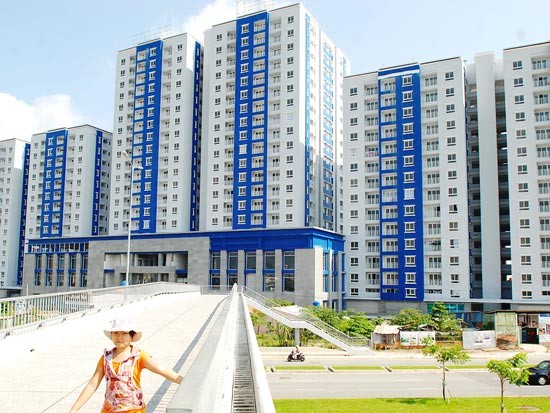 A new apartment block in District 8, HCMC (Photo: SGGP)
That is opinions of delegates at a talk hosted in Ho Chi Minh City on December 1 by Infonet Newspaper under the Ministry of Communications and Information.
HCMC Real Estate Association Chairman Le Hoang Chau said that two most complicated procedures are interfered in collateral and borrowers' income.
A joint circular by the Ministry of Justice, the Ministry of Construction, the Ministry of Natural Resources and Environment, and the State Bank of Vietnam has permitted buyers to use their future houses as a mortgage to get bank loans.
Buyers have to pay 20 percent of an apartment value in advance to get loans for the rest 80 percent value. However some banks still require borrowers to put up other properties for mortgage, he said.
Mr. Le Trong Khuong, deputy director general of Hung Thinh Company, said many customers have been in need of loans but none of them have been accessible because the company is a secondary investor.
Hung Thinh Company purchased the project from other investors, who were unaffordable for implementation, and completed it for sale. Banks have refused to loan the company's customers saying they are not eligible.

The limited supply of social housing has also caused the slow disbursement of the credit package. Meantime the progress of converting commercial into social housing and large into smaller apartments has been very slow.
Therefore banks have focused on loaning commercial housing projects, whose apartments are smaller than 70 square meters each with a price of below VND15 million a square meter or VND1.05 billion an apartment. However the number of these apartments is very limited.
Mr. Phan Truong Son, head of the Housing Development and Real Estate Market Division under the HCMC Department of Construction, said that the city has approved to convert eight out of 11 commercial housing projects into social housing and split apartments of only nine out of 24 projects.
Explaining for this slowness, Mr. Son said that many projects have failed to meet requirements in population and technical infrastructures when their apartments are changed smaller.
The Ministry of Construction has recently extended the deadline to shift commercial into social housing and large apartments into smaller ones until the end of 2015 instead of this yearend, he said.
The move is expected to increase the supply of social housing and create conditions to speed up the credit package disbursement, adding more that the Government has issued a resolution targeting at least 40 percent cut of time spent on administrative procedures for construction projects. The HCMC Department of Construction has studied to further simplify the procedures aiming at reducing it by another 10 percent.