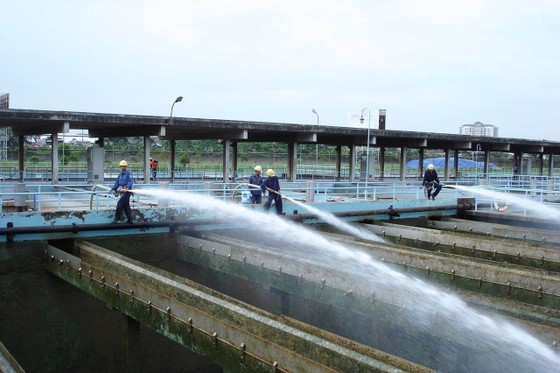 Employees at the water plant strive to ensure safe water supply during the dry season

Ca Mau Province is the only place in the Mekong Delta without freshwater supplement from major rivers, leading to a high potential of saltwater intrusion. Residents in the freshwater districts of Tran Van Thoi and U Minh have lately been trying to actively store sufficient water for future use.
The Ben Tre Province Department of Agriculture and Rural Development informed that the water volume from the upper Mekong River has suddenly dropped in the last few days, resulting in a higher saline level in its main rivers of Co Chien, Ham Luong. A similar situation is happening in Soc Trang Province's main rivers of Hau, My Thanh.
The Southern Institute of Water Resources Research explained that a strong dependence on the operation of hydropower plants in the Mekong River basin makes certain province in the Mekong Delta more susceptible to unexpected saltwater intrusion.
To actively fight against this, Long An Province has directed its local functional agencies to strictly monitor the water quality and saline levels in its major rivers as well as inland canals, along with regularly updating necessary information and weather forecasts, disaster warnings from specialized units.
Likewise, Tien Giang Province has asked its localities to determinedly fulfill the task of preventing saline intrusion and provide sufficient irrigation water for 46,000ha of winter-spring rice fields and orchards in the province. It is also essential to ensure enough water for daily use of residents in the Eastern districts of Cho Gao, Go Cong Tay, Go Cong Dong, and Go Cong Town.
The agricultural sector of Kien Giang Province these days are working with the provincial Meteorological and Hydrological Station to closely monitor the salinity at Xeo Ro Go Quao Station on Cai Lon River, An Ninh Station on Cai Be River, and Rach Gia Station on Kien River. These units are instructed to be flexible in operating the salt-prevention weirs.
Moving to the Central Highlands, at the beginning of February, the fields in Son Trung Village (in Dak Mil District of Dak Nong Province) are like a hot pan. Plants have wilted because of harsh heat, and the water level in Dak Gan Irrigation Lake – the only place to supply water for hundreds of hectares of plants – is much lower. Tens of pumps are working non-stop to save the crops here.
The provinces of Gia Lai and Kon Tum are the same, with local water shortage negatively affecting plants and rice, coffee crops. Even water for daily activities is not sufficient, and the risk of wildfire is higher than ever.
The People's Committee of Kon Tum Province said that to actively implement solutions to fight against droughts this year, it has asked all districts to review and repair damaged irrigation works while speeding the construction of new ones so as to improve the water exploitation capacity.
Meanwhile, Dak Nong Province has finished the drought prevention plan this year and is ready to carry out. Particularly, citizens are advised to use water sparingly and smartly, with a priority on domestic use, drinking water for livestock, and irrigation for high-value crops.
Vice Chairman of Ho Chi Minh City People's Committee Vo Van Hoan has just signed Dispatch No.307/PA-UBND about this year's measures to fight against droughts, saltwater intrusion, and water shortage in agricultural activities and domestic use in the city.
Accordingly, related state units must synchronously launch practical solutions like closely checking water sources, taking the initiative in dredging, increasing water storage in ponds, lakes, rivers, and canals, balancing the water supply capacity among districts for all purposes. In the case of drought, water for domestic use, drinking water for livestock, and irrigation for high-value crops must be prioritized.
Irrigation construction projects must be accelerated, together with repairs and maintenance of damaged and operational irrigation systems, especially inland ones in extremely risky areas. The monitoring and supervision tasks in these highly susceptible locations must be done properly in order to timely instruct residents to store water for manufacturing and domestic purposes.