State-run Vietnam Oil and Gas Group (PetroVietnam) remains at the top of the 500 Vietnamese biggest enterprises list in terms of revenue (VNR500) this year, while the Vietnam Dairy Products Joint Stock Company (Vinamilk) has been named the country's largest private enterprise.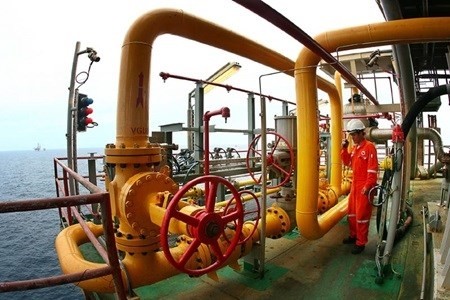 PetroVietnam remains at the top of the 500 Vietnamese biggest enterprises list in terms of revenue (VNR500) this year (Source: VNA)
The Top 500 Largest Enterprises list from the Revenue Ranking Board follows the Fortune 500 model. It was released on December 1 by the Vietnam Report Company and online news site VietnamNet.
In the list, PetroVietnam was followed by Samsung, Vietnam National Petroleum Group, Vietnam Electricity, and Viettel Group.
Statistics from the report show that State-owned enterprises (SOEs) played an important role in the country's economy as they accounted for 57 percent of revenue of the top 500 firms.
However, the number of SOEs on the list continued to decline slightly with 38.4 percent in comparison with 40.8 percent of last year.
In addition, the report says that the mineral and petroleum sector was ranked second with 14.4 percent of enterprises, but leading in terms of revenue with 31.6 percent of total revenue.
Meanwhile, the telecommunications and information technology sectors had an unchanged number of enterprises on the list of about 4.4 percent. The sector created 7.7 percent of the total revenue, a small increase compared with 7.1 percent of last year.
This year, northern Bac Ninh province continued to hold the third position after Hanoi and HCM City on the list of five cities and provinces with the most contribution to total revenue. Others were Dong Nai and Binh Duong provinces.
Excluding Hanoi, other provinces had total export revenue exceeding 10 billion USD each in the first 10 months of 2015.
VNR's survey also revealed that the top 500 firms showed optimism about the Trans-Pacific Partnership, and said it would bring positive results to their operations.
Ninety percent of surveyed firms said that healthy competitiveness and elimination of the monopoly in several industries would create the most positive results, and 87.8 percent believed commitments on equal and fair competition between state-owned and private companies would create a "good shift" for their operations.
On the top of the list of the 500 biggest private firms, Vinamilk was followed by Doji Gold and Gems Group, FPT Corporation, Vingroup Joint Stock Company, and Hoa Phat Group JSC.
An awards ceremony to honour the 500 on the list is expected to be held in HCM City next month.-VNA