Vietnam's number one chess player, 20 year old Le Quang Liem, won the championship title at the 5th Spice Cup in the US after beating Cuba's Leinier Dominguez in a decisive game on October 26.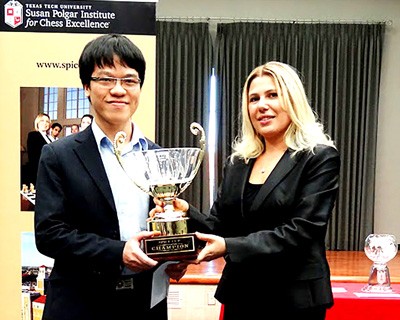 Le Quang Liem (L) receiving the championship cup at the 5th Spice Cup in US
Before staging the last match with the Cuban rival, Liem had ranked third with 14 points.
Liem defeated his Cuban rival in 29 moves with 17 points, after ten matches. In the first round, Liem had lost to Leinier, but he played with an advantage of holding the white pieces in the last game.

Leinier Dominguez was ranked second, holding 15 points above Germany's Georg Meier.

Ray Robson of the US finished fourth with 11 points, followed by Sebastian Feller of France with 9 points and Yuri Shulman of the US with 7 points.
The SPICE CUP was held this year in Texas from October 15 to 25. There were three round-robin tournaments, with the A Group of 6-players in double round-robin, and B and C Groups of 10-players in single round robin.
Liem returned to Ho Chi Minh City yesterday evening. He said that he will continue to train at the National Sports Training Centre in HCMC and prepare for the 26th SEA Games in Indonesia on November 11.

The website www.2700chess.com, which specializes in daily updates of super international grand master Elo ratings, listed Le Quang Liem as one of the 40 super grand masters after he drew with U20 World Junior Chess Champion Dmitry Andreikin of Russia, within the framework of the Capablanca Chess Tournament in Cuba from May 9-21.

With this ranking, Liem has become the fourth Asian player, and the only Southeast Asian player as well as the world's second youngest player, after 19 year old American Italian Fabiano Caruana, to have achieved an Elo rating.

Liem said he hoped his success would offer him more opportunity to enter major competitions and compete with world-class players and to overcome new challenges.