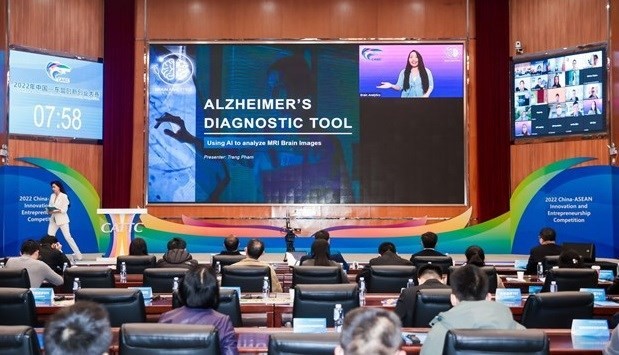 Pham Thi Nhu Trang speaks on behalf of the Vietnamese team at the awarding ceremony. (Photo: VNA)
The team from the International University (IU), one of seven members of the Vietnam National University - Ho Chi Minh City, consists of about 20 members, including doctors, engineers, and students.
Speaking on behalf of the group at the awarding ceremony held in Jakarta, Indonesia, on February 17, Pham Thi Nhu Trang, a senior at the university's faculty of biomedical engineering, said Brain Analytics initially aimed to gain support from the Asian startup and medical community in order to develop the project outside of Vietnam in the future. The team also wants to look for funding to build local database to improve their product's efficiency, she added.
Also obtaining the second prizes, the highest for projects from ASEAN, were the 'Castomize - Casts Made with 4D Printing' and 'FormaCyte Therapeutics - Injection-free Cellular Implant for Diabetes Management' projects, both from Singapore.
Meanwhile, two third prizes were presented to enterprises from Cambodia and Myanmar for their works in the fields of digital economy and modern agriculture.
The Creativity Stars prizes and other certificates were also handed over to collectives and individuals at the ceremony.