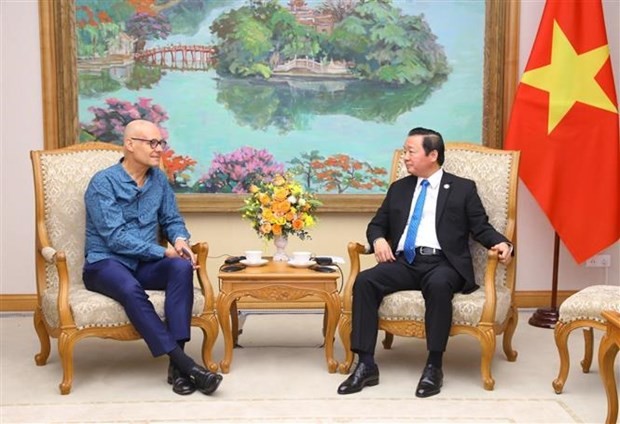 Deputy PM Tran Hong Ha (R) and Dutch Ambassador to Vietnam Kees van Baar (Photo: VNA)
Deputy PM Ha said Vietnam and the Netherlands are strategic partners in climate change adaptation, water management, sustainable agriculture, and food security.
With the support of Dutch partners, he said the Vietnamese Government has issued a decision on the Master Plan for the Mekong Delta region for the 2021-2030 period, with a vision to 2050. It has adopted advanced approaches to addressing climate change, managing water resources sustainably, and forming mechanisms for regional coordination and development.
He informed the diplomat that the National Power Development Plan VIII (PDP VIII) incorporates several new mechanisms, such as self-generation and self-consumption; immediate conversion of fossil fuel-based power to wind and solar power, or the use of green fuels such as green hydro and green ammonia; and the export of renewable energy. The key considerations include the capacity of businesses, the feasibility of technologies, and economic efficiency.
With experience in offshore wind power development, he hoped that Dutch enterprises would help the Vietnamese Government complete criteria for selecting investors, transferring research and technology, evaluating economic efficiency, and ensuring national security and safety.
The host suggested that Dutch partners could explore investment options in renewable energy projects that are synchronous with the establishment of major industrial zones in the Mekong Delta. This would also enhance the role of the State in directing, supporting, and accompanying businesses in specific projects to achieve the set objectives.
Kees van Baar, for his part, said Vietnam and the Netherlands hold great potential in new areas such as renewable energy and carbon market development.
Dutch firms are very interested in orientations for renewable energy development outlined in PDP VIII and wish for support to embark on pilot projects on rooftop solar and offshore wind power, he said, adding that the Netherlands is willing to provide support and technical consultancy in policy building, management, technology transfer, and green financial resources for Vietnam's just energy transition process.
Receiving US Ambassador to Vietnam Marc E. Knapper the same day, Deputy PM Ha said Vietnam – US ties are growing stronger, particularly in climate change response, dealing with dioxin contamination, the Just Energy Transition Partnership (JETP), and net-zero gas emissions.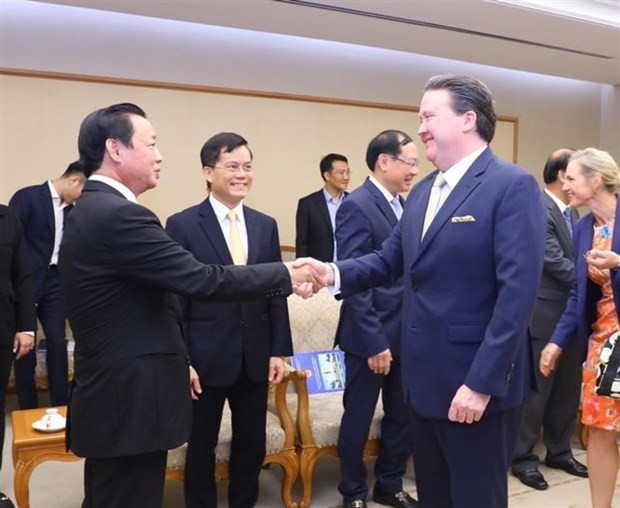 At a reception for US Ambassador to Vietnam Marc E. Knapper (Photo: VNA)
He said the issuance of PDP VIII, which allocates a significant space for renewable energy, reflects Vietnam's commitment to taking collective actions in line with the JETP and net-zero goals. Vietnam has confidence in the support and commitment of JETP partners in terms of technology, management, and financial resources for renewable energy and the establishment of carbon markets.
Global issues lay a crucial foundation for cooperation between Vietnam and the US, fostering substantive and profound relations that bring value to the people of both countries while contributing to addressing global challenges, he said.
Knapper, for his part, said the US would continue assisting Vietnam in carrying out the JETP and achieving net-zero goals through sharing and transfer of technology, financial resources, management, and technical expertise for renewable energy projects involving the participation of US businesses.
The US partner organizations will continue stepping up projects addressing the consequences of dioxin contamination, mine clearance, and support for people with disabilities.
Host and guest agreed on measures to utilize Vietnam's skilled workforce with the support of the US-funded infrastructure and equipment, thus pushing forward sci-tech research involving new materials, vaccines, and core technologies while harnessing the advantages of digital transformation, education and training, innovation, and health care.