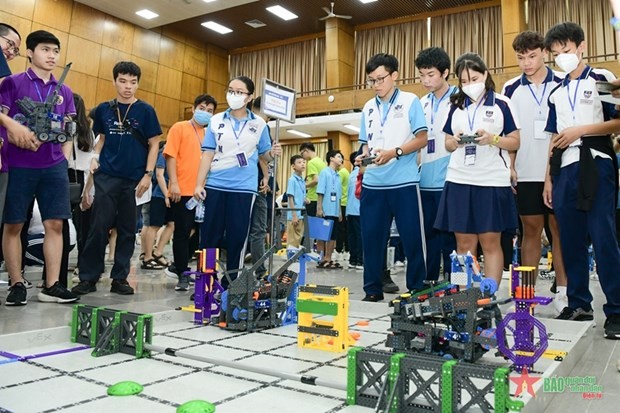 Competitors take part in the National Robotics Tournament 2022. (Photo: qdnd.vn)
Held annually, the VEX Robotics World Championship, the largest robotics competition in the world, attracts more than 3,000 teams from over 60 countries.
To select the best teams representing Vietnam to compete at the championship, STEAM for Vietnam, in coordination with the American Centre and Hanoi University of Science and Technology (HUST), organised the National VEX IQ Robotics Championship 2023.
The tournament will take place on February 26 at HUST. It brings together 145 teams and 684 students from 152 elementary and junior high schools in 27 provinces and cities.
The tournament is expected to help students across the country have hands-on experiences in science, technology, engineering, and math. It also enables the students to develop necessary soft skills for the future, such as computational thinking, problem-solving, and teamwork skills.
According to Tran Viet Hung, Co-founder of STEAM for Vietnam Foundation, by participating in the VEX Worlds, Vietnamese students will gradually gain the essential skills to be able to compete in the global market in the future.