Vietnamese President Truong Tan Sang on Oct. 13 arrived in Sri Lanka for a State visit where he was welcomed by Sri Lankan President Mahinda Rajapakse at Bandaranaike airport in Colombo City.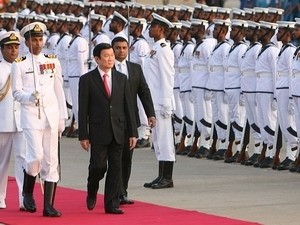 Vietnamese President Truong Tan Sang (front) reviews the Sri Lankan honor guards on Oct. 13, 2011 (Photo: Vietnam News Agency)
Earlier on the day, Sang attended the Vietnam-India Business Forum held by the Vietnam Chamber of Commerce and Industry, and the Confederation of Indian Industry in Mumbai.
Delivering a speech at the opening ceremony, Sang said that many cooperation agreements had been signed, an important foundation to enhance the traditional friendship and cooperation between the two countries.
While India has made considerable strides in science and technology related to information, genetics, agriculture and nuclear energy, Vietnam itself was stepping up development via its socio-economic strategy for the 2011-20 period.
The meeting among enterprises from both countries helped boost the implementation of agreements on trade and economic bilateral progress.
Sang called on the chambers of commerce and industry from each country as well as ministries and relevant agencies to increase information exchanges and help enterprises take part in trade fairs and market research.
He expressed his belief that the business forum would facilitate Vietnamese and Indian business communities to take advantage of the two sides' strengths and potential.
In the meeting, Farhad Forbes, Chairman of the Confederation of Indian Industry, said that it had encouraged and created favourable conditions for many Indian businesses to visit Vietnam in order to explore investment opportunities.
With Vietnam and India enjoying strategic position on the world trade map, enterprises from both sides should support mutual development, Forbes said.