Vietnamese President Truong Tan Sang on Oct. 11 arrived in Bangalore city of Karnataka state, beginning his state-level visit to India at the invitation of his Indian counterpart Pratibha Patil.
Right after his arrival, President Sang met with Karnataka State's Governor S. Hans Raj Bhardwaj.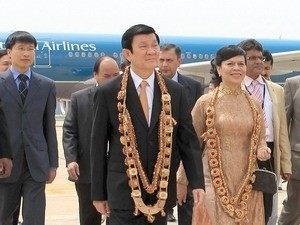 Vietnamese President Truong Tan Sang (C) and his wife at Karnataka State's airport on Oct. 11, 2011 (Photo: Vietnam News Agency)
The Governor said Bangalore, India's third largest city, is a major software centre and considered as the first "Silicon Valley" of India as well as Asia. The city is also home to 120 universities.
Bangalore has drawn a total of 500 Vietnamese students who pursue different majors, mainly in software technology.
The city has also welcomed many Vietnamese economic delegations which came to study and exchange experience in trade and investment, the Governor said.
India is ready to help Vietnam in high technology, telecommunication technology and IT, he said.
President Sang called on major Bangalore-based companies to invest in high-tech centres in Vietnam.
He expressed his wish that Karnataka authorities create more favourable conditions for Vietnamese students to study in Bangalore, contributing to Vietnam's human resource development in software technology.
President Sang affirmed Vietnam's consistent policy of constantly developing the traditional friendship and strategic partnership with India, which includes the expansion of people exchanges for cooperation between localities of the two countries.